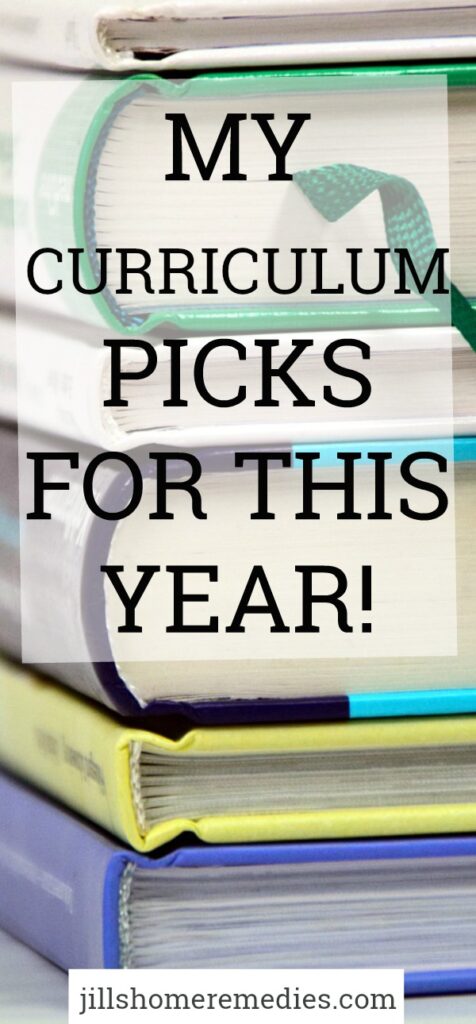 If you are a homeschool parent, this page is for you! I realize my blog is focused on natural health (and that's my favorite thing to write about!), but I know that I have several homeschoolers that read my blog. I also have several people ask me which curricula I use for my girls. So, I thought it might be of interest to some of you to know what I'm using this year.
And hey! I love finding out from others what THEY use because you know what? I have discovered my favorite companies through the recommendations of others, so please feel free to share with me some of your favorite companies (or company if you stick with one)!
I must admit that I'm kind of a curriculum junkie. It absolutely thrills me to search out different companies that I believe work well for our family. I'm one of those moms that uses a different company for just about every subject, because I like to make things difficult like that. 
On a serious note, though, I have found several different companies that I believe do a great job in one specific subject, so those are the ones I choose. Some companies I started out with 12 years ago and have stuck with them, while others have been replaced by a company that I have learned to prefer over the years.
When choosing a company, these are my credentials:
Biblical world view – Since I am a devoted Christian, it is very important to me that my girls have books that promote a biblical worldview. Some subjects (such as math) may not talk about Bible views, but I do strive to findat least a few subjects that use that viewpoint.
Interesting – For the most part, I strive to find books that are interesting to my girls. I believe that if I give them school work that bores them and that they just have to finish and take tests to get it over with, they will NOT remember what they've learned. My purpose for homeschooling is not just for my girls to memorize facts, but to prepare them for life. Some books I've looked at may have a Christian viewpoint, but they are BORING and I know my girls will not remember a thing they read.
Fits their learning style – One thing I love about homeschooling is that I can teach my girls individually in a way that THEY learn best. Not all kids learn the same and sometimes they can all use the same companies, and other times I choose a different company for one of them.
Affordable – I know a lot of people spend thousands of dollars on school books, but I simply cannot do that. I always shop Amazon and Ebay to try to find books used, but even if I have to buy a book new, it's typically reasonably priced, or it's put together in a way that I can reuse it for each child without having to buy another one.
Homeschool Curriculum Picks for This Year!
Below I'm going to list the grades my girls are in, what books I chose for them this year, and why! I'll be covering what I'm using specifically for my 3 daughters, but if you are interested in recommendations for other grades, just ask away!
If you are a parent that would prefer to use one company exclusively, I cannot say enough good about MASTERBOOKS. I would for sure consider using this company exclusively if I desired to do my school that way. I'm so thrilled with their focus on a biblical worldview, that most of the books are so interesting and fun to use, and that they are very affordable!!
This year, I only have 3 kids I'm teaching since my oldest is graduated. That's a tough one for me to not have her in our school days! I love my days being surrounded by my children, but I suppose I have to let her grow up. 🙂
This year, I also was able to get all of our books for only $64 per child. Mostly it's because I purchase things that can be passed down year after year, but I also find good deals on Ebay and Amazon. And with Masterbooks, I earn points each time I shop, so I saved about $18 when I applied my points to this order! Plus, they give you a 30% discount if you order at least 3 sets of books and I did, so I saved even more. I LOVE a company that rewards its customers!
My Homeschool Curriculum Picks for This Year! 
I will link to the companies below, so you can click on each name if you wish to check any of it out!