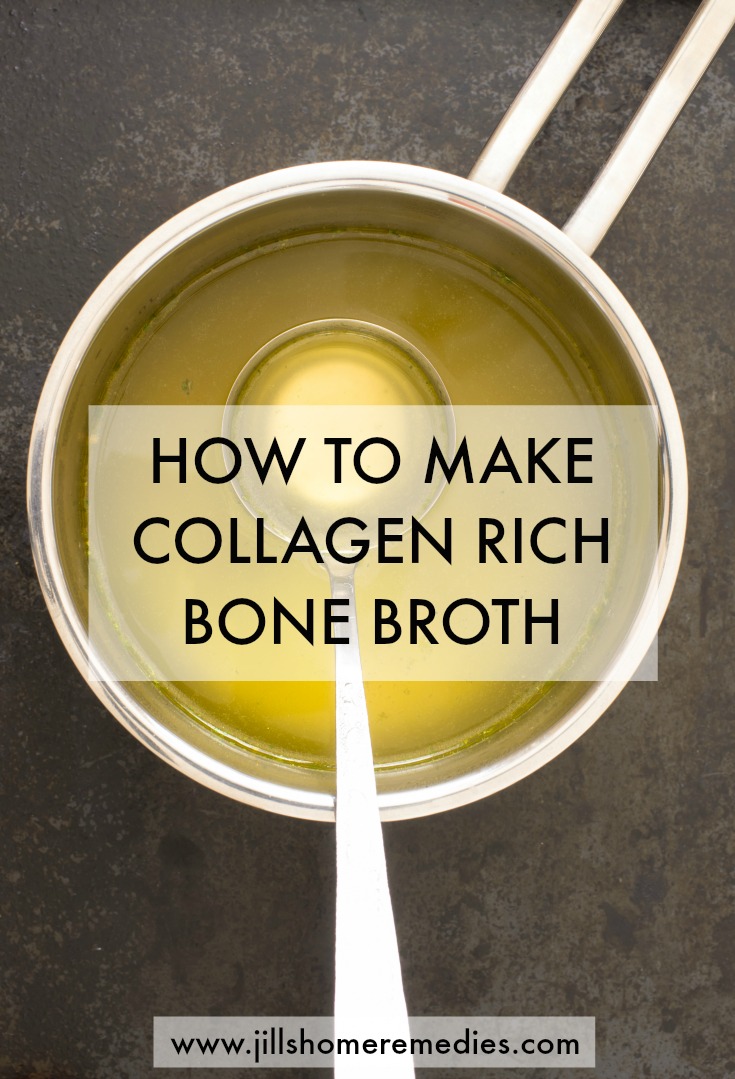 I was recently at a local health food store talking to the owner. We were discussing how bone broth can heal digestive issues and she told me that making broth with chicken feet produces a lot of healthy, healing collagen.
Now I'd been reading a lot on the internet about how important collagen is for joints and to slow down aging.
But chicken feet?! My curiosity got the better of me and I just knew I had to give this a try.
You have also likely heard the great benefits of collagen. And you've also likely heard how healing bone broth is. Today I'm going to teach you how to not just make any bone broth, but bone broth that is very rich in collagen.
Why Does Collagen Matter?
Collagen is a protein in the body that strengthens our hair, nails, teeth, and gives us strong, pain-free joints to name a few things. As our body ages, we produce less collagen which results in wrinkles, sagging skin, and joint pain. In fact, women will pay a lot of money to have collagen injections to slow down their aging! The good news for those of us that don't have the money or desire to have collagen injections, we can add lots of collagen to our diet for just a few dollars.
Why Bone Broth is So Good for You
According to Dr. Josh Axe [1], bone broth is the number one thing you can consume to:
Boost the immune system
Help heal joint pain
Bring a stop to food intolerances and allergies
Heal Leaky Gut Syndrome
Reduce cellulite
Bone broth is a nutrient dense food, meaning it has a lot of nutrients that are easy to digest and can bring about healing in the body. Cultures all over the world use bone broth as a base for many meals. I think this needs to become more of a practice in America as we eat mostly dead foods with no nutrition, and our health as a nation is evidence of that.
But what do I mean by bone broth? Many of us will roast a chicken or beef roast in the oven or crockpot and it makes a broth. While that broth is healthy and delicious to eat with cornbread and vegetables, that's just broth and not the bone broth that I'm talking about.
Bone broth is cooking just the bones for at least 24 hours to make a more concentrated, nutrient dense broth to add to foods or to just drink on its own. So yes my family loves the broth from a roasted chicken, but I also desire to get the concentrated bone broth in our diets too. Bone broth is where true healing can come from! And it's so super simple to make!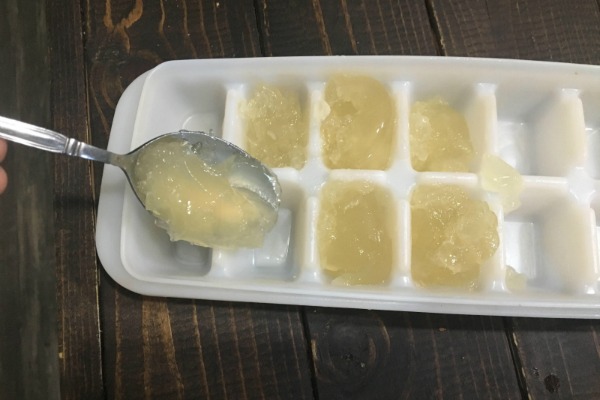 I froze most of my broth into ice cubes to use in recipes as needed. This makes things so easy!
How To Make Collagen Rich Bone Broth
You can make bone broth with any bones as I explain in this post, and you may get some collagen from it. You can tell you have collagen if it gels when it cools. But the way to get truly rich collagen, is to use animal feet as I mentioned above.
OK, so yes, I know that's strange to those of you that are Americans, but do you know cultures all over use chicken feet often? That's because they are full of tendons and cartilage that is full of collagen! You can use any animal feet, but I found chicken feet at the store that were already well washed and peeled, so I purchased those. Makes life easier.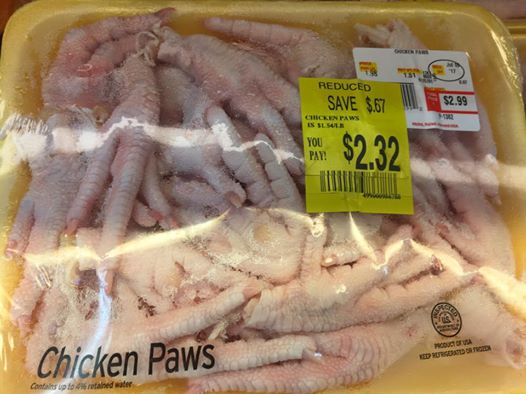 Is anyone else slightly horrified looking at a package of chicken feet?! I was horrified and excited all the same time when I found them at the store. Horrified because of how "freaky" they looked all skinned and packaged up, and excited because I knew the healthy broth they would make!
And does anyone notice the "chicken paws" label? Since when do chickens have paws? LOL This gave me and several people on social media a good laugh. Anyone know why they call them that on the label? I'm interested to hear if you do. 🙂
If you use chicken feet directly from a farm, you will want to wash and clean them thoroughly and peel them to make sure all bacteria are gone. I've never peeled chicken feet, but you can see this post for those instructions.
Bone broth is SO easy to make! All you need is the bones, some raw apple cider vinegar, and mineral sea salt! You can add herbs and/or vegetables to make it even healthier and tastier, but that's up to you! Be creative and do what you wish. I added astragalus to this broth in this post. I buy astragalus here.
And don't worry if you just can't quite bring yourself to use animal feet – just make broth with bones! You can even combine regular bones with the
Ingredients
3 pounds chicken feet, or other animal feet/hooves
4 tablespoons raw apple cider vinegar
2 tablespoons mineral sea salt
Directions
Place chicken feet in a crockpot.
Cover with water by 1-2 inches
Add vinegar, salt, and any herbs or vegetables you wish to.
Cover with lid.
Cook on low for at least 24 hours.
Strain out bones and use broth for soups, stews, etc.
[yumprint-recipe id='23']
Have you ever made bone broth from animal feet? I'd love to hear your experience!
References
#BoneBroth Benefits for Digestion, Arthritis, and Cellulite. (n.d.). Retrieved July 17, 2017, from https://draxe.com/the-healing-power-of-bone-broth-for-digestion-arthritis-and-cellulite/