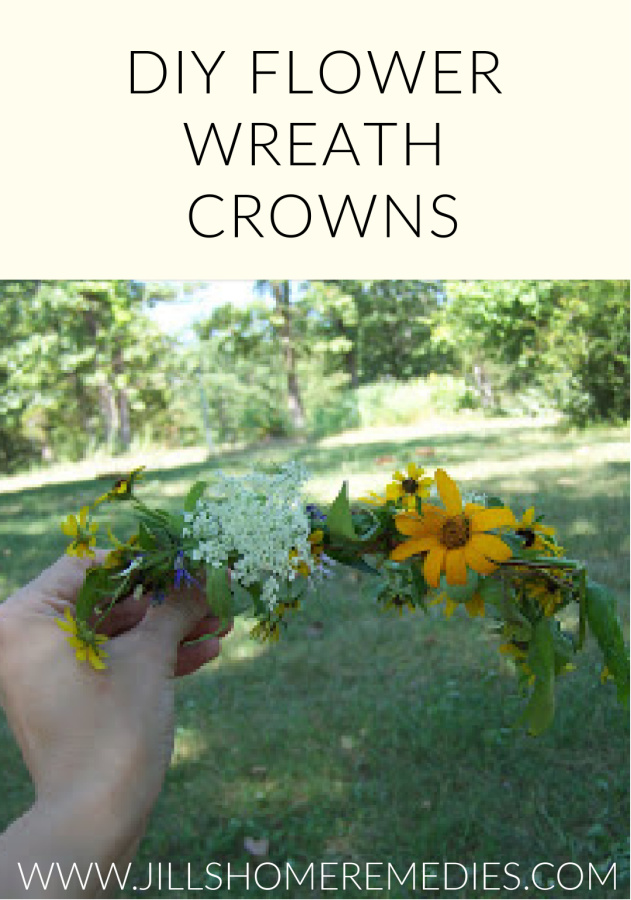 I love spending time with my girls ~ they are so much fun! 🙂 It's important to spend good quality time with our children and make memories! They grow up way too fast, don't they? 🙁
Every summer, we go flower picking to make flower wreath crowns. The girls choose which flowers they want, and we braid them into crowns.
They are so simple to make!
Flower Wreath Crowns
Start with 3 separate flowers
2. Begin braiding them together, making sure you braid as tightly as you can.
3. When one of the stems gets short, or you just want a new flower weaved in…
~Add another flower to one of the stems….~
4. Stick flowers in here and there to fill in empty spaces and add more color and beauty!
5. When the crowns are the size you want, twist the ends of the stems around the beginning of the wreath.
~And you have a beautiful flower wreath for your girls~
You can make this more educational by studying the flowers/herbs you choose for your wreath and whether they can be used for food or medicine! Learning about herbs can be a daily way of life. Our children's lives may depend on this some day!
---
Speaking of education, how would you like to win $200 toward educational materials??




It's Back to (Home) School time!!
More and more families are joining the ranks of homeschoolers this year. With all of the uncertainty surrounding what public school will look like this fall, many parents are adding the role of educator to their list of parental duties. One of the scary and overwhelming things about making the leap into homeschooling is the financial aspect of it. Curriculum can be expensive (although it doesn't have to be) and one of the parents might have to quit their job or cut their hours to help make homeschooling a reality for their family. While working and homeschooling or being a one-income family is totally doable, it does require some sacrifice and sometimes that means tightening the budget. I've teamed up with a great group of homeschool bloggers that would like to bless a few homeschool families this year and help lighten the financial load, even if it's just a little. We wish we could bless more, but we will be able to
give THREE families $200
to spend at Christianbook.com to buy curriculum, resources, and supplies for their homeschools. To enter for your chance to win, simply use the Rafflecopter form below to enter. Now I know this is quite a few entries, but each of these bloggers has generously chipped in their own money to make this giveaway possible, so I hope you will take the time to do all of the entries. And hey, the more entries you do, the better your odds are of winning!
Giveaway ends August 14, 2020 at 11:59pm ET. Must be at least 18 years of age. Must be a resident of U.S. or Canada to enter. Selected winners will have 48 hours to respond to email notification to claim their prizes or another winner will be drawn. By entering this giveaway, you agree to be added to the email lists of the participating bloggers (see the Terms & Conditions on the Rafflecopter form for the complete list).
a Rafflecopter giveaway
This is linked to: