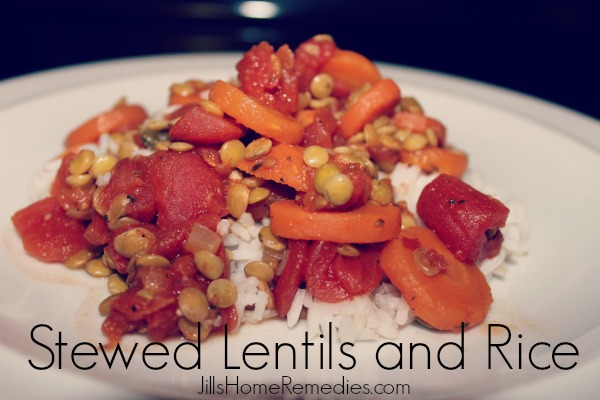 I am often on the lookout for lentil recipes.  Lentils are so healthy and give you needed protein in your meal without the expense of meat.  If you are looking for a way to save on the grocery bill, making meals with lentils and cutting back on meat consumption is one way to do it!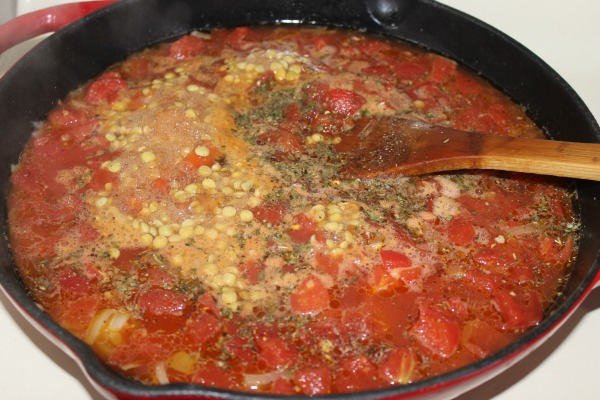 When I came across this stewed lentil recipe, I knew it was one I had to try!  I love the flavors of carrots, tomatoes, onions, and garlic together.  Adding lentils and rice make it a more filling and wholesome meal!
Stewed Lentils and Rice

Print recipe
Ingredients
1 Onion (Diced)
2 cups Carrots (Diced)
3 Garlic Cloves (Minced)
28 oz. cans Tomatoes (or fresh tomatoes) (Diced)
1 cup Uncooked Lentils (Sorted and Rinsed)
2 cups Chicken or Vegetable Stock
1 tablespoon Raw Apple Cider Vinegar
2 teaspoons Thyme Leaves
Salt and Pepper to Taste
Directions
Step 1
Saute onion, garlic, and carrots in butter on medium-low for 10 minutes.
Step 2
Add tomatoes, lentils, broth, and seasonings to the pan.
Step 3
Bring to a boil, reduce heat, cover and simmer 30-40 minutes. Add more liquid during cooking if necessary.
Step 4
Remove from heat and stir in the vinegar.
Step 5
Serve over rice and enjoy!
This recipe was inspired by a Barefoot Contessa recipe.
Do you have a favorite lentil recipe?  I would love to hear it in the comments below!