Welcome back to the second post of the Raising Healthy Family Series!
I hope you'll join us each Friday from now through June, for a new post focusing on having a healthy family in a not-so-hea

lthy world!
Today we have a post by Beth of Red and Honey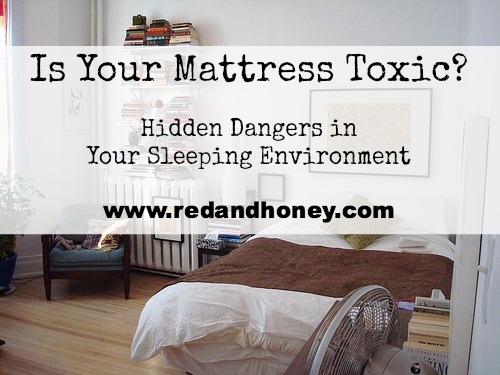 We spend an average of eight hours a night sleeping. That's fifty-six hours per week, or about one third of your whole life. It's even more for babies and children!
Logic would dictate that we would desire a healthy and toxin-free spot to rest our weary heads each night, but unfortunately that can be difficult to find.
Conventional mattresses (and even many labelled "organic" or "natural") contain toxic flame-retardant chemicals that off-gas continuously. Since you are laying directly on it for eight hours every day, this is most definitely a problem.
There are multiple links between the toxins found in our sleeping environments and many health issues that plague our society today, such as asthma, allergies, headaches, and SIDS, to name a few.
You may be wondering what can we do about it. Is it really so bad? What if I can't afford an organic mattress?
Our family recently took steps to make our sleeping environments safer.