If you like the flavor of blueberries, this healthy jam is packed with nutrition and flavor!  I try to keep blueberries on hand all the time since they are on the list of superfoods.  We enjoy them in smoothies, by the bowl-full, and in recipes like this jam!  Blueberries boost the immune system, fight free radicals, improve memory and eyesight, just to name a few.
Adding Chia seeds to this jam makes it all that much more of a super health food.  Chia seeds are a great source of omega-3 fatty acids, an excellent source of antioxidants, is high in minerals, and contains 6 times more iron than spinach.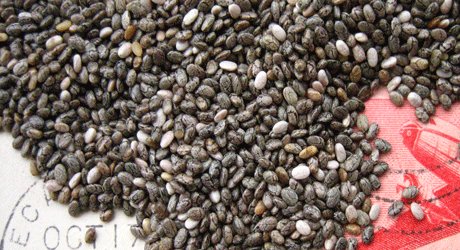 Besides being super healthy, Chia seeds are also a thickening agent, making this jam free of pectin and having no sugar!
Recipe:
3 cups of fresh or frozen blueberries
1/4 cup Chia seeds
1/4 cup honey
1/2 tsp. vanilla
Directions:
Place blueberries and honey in a pan and cook until juicy and blueberries soften.  As the blueberries soften, I mash them the best I can.  Stir in chia seeds and cook until thickened.  Add vanilla and place in a jar.
Keep refrigerated.  Will stay good for a week.
Find more yummy Chia seed recipe

HERE

!
Do you use Chia seeds in your diet?