Today we have a guest post written by Olivia of Every Home Remedy.  Olivia is a stay at home mom of 2 kids, and hopes to inspire others by sharing natural home remedies!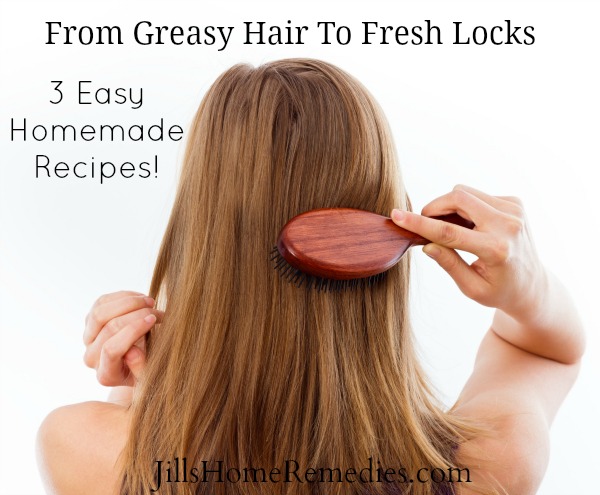 You wash your hair as often as you can, and it still feels oily and greasy? Here are some practical tips to get your hair healthy again and to get rid of that greasy hair.
Oily hair: what is it exactly?
One speaks of excessive sebum secretion when your hair starts feeling greasy the third day after washing. This is called seborrhea or, in extreme cases, hyper seborrhoea. Symptoms are limp and heavy hair that is difficult to cut, sometimes with oily dandruff. And gradually, the new hair growing out will be thinner.There are several causes: genetics, stress, fatty foods and/or the wrong hair care products
Oily hair at the root, but dry ends?
This is the most common instance with oily hair. The sebaceum continues to remain on the scalp rather than to spread out over the length of the hair. The result is oily hair at the root, but super dry hair ends. The cause is a change of the keratin level in the hair. This happens often (but not always) with colored and bleached hair and perms.
Dealing with your greasy locks: the basics
Avoid washing your hair with hot water, and frequent washings. Your scalp produces sebum (oil) to protect your skin. If you wash your hair every day, you remove that protective layer every time. This will cause your scalp to produce more sebum your hair and grease up faster.
Do not let the shampoo sit on your hair and do not use a hot hair dryer. All those factors only stimulate the sebaceous glands. Also avoid products based on alcohol and other aggressive ingredients. Rather go for products with a gentle cleansing composition.
Attack the grease once a week at the root with masks based on clay. These will heal your scalp. Finally this: eating too much fat is not good for oily hair. Rather eat lots of fresh fruit and leaves and other green vegetables.
A few more hair tricks
Rinse your hair after every wash thoroughly with cold water: It will remove flakes, close the hair follicles and stimulate blood flow of the scalp.

Do you have split or dry ends? Apply a self made conditioner (recipe below) after washing, but only on the lower half.

Massage your scalp regularly. This distributes the sebum evenly and regulates the functioning of the sebaceous glands. How to do this? Put both hands on on your head, fingers extended. Then move the fingers of both hands toward each other, as if you want to clamp your scalp with pliers. Repeat this movement several times. You will feel instantly better!

Start using a dry shampoo (recipe below)! Spray it on places where your hair is greasy, give it a good brush and you're ready to go.

Difficult but effective: don't touch your hair during the day!

If you do use shampoo, only use a little amount.

Change your pillowcase frequently. Bacteria on your pillow case grease up your hair quite fast.
DIY Natural Hair Recipes for Greasy Hair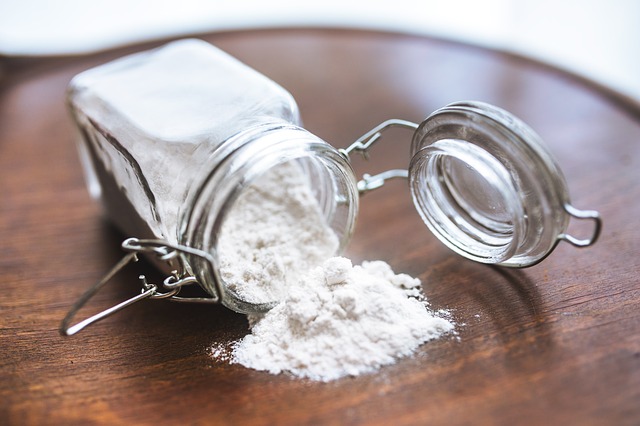 Dry Shampoo
The disadvantage of store-bought dry shampoo is that they contain chemicals to ensure the powder to come out, and alcohol. These tend to dry out your hair and damage the delicate skin of your scalp.
With this recipe you can create a completely natural and harmless dry shampoo:
1. The first thing you need is cornstarch, which has a very fine structure. Thus, you can easily distribute it through your hair and get it out easily. Corn starch has the same effect as dry shampoo: it absorbs the fat out of your hair.
2. Add a little cocoa powder with the cornstarch and mix the powders together. This step can be skipped if you're a blonde, because it adds color to the dry shampoo so you do not get a white haze on your brown locks.
3. Your hair often does not smell as fresh when it is oily. This is because of all the different smells that you come in contact every day that your hair picks up. So add a drop of essential oil to your mixture. Something like fresh lemon or lavender are great fresheners.
4. Stir everything together, add some dry shampoo to your roots. This is best done by taking a little powder on your brush or powder brush and apply it directly on your head. Knead and/or comb it through your hair, let it sit for a minute and brush out.
Baking Soda Shampoo
If you do like to use some kind of shampoo, this is a great recipe for clean, shiny hair.
Combine 1 tablespoon baking soda with 2 tablespoons of water to a paste.

Massage the paste gently through your hair.

Rinse thoroughly.
Vinegar Conditioner
A simpler recipe for a natural conditioner does not exist: apple cider vinegar is all you need!
Spray some apple cider vinegar in your wet hair, with a spray bottle. Leave in for 15 minutes. Rinse out thoroughly with cold water.
Yogurt Hair Mask
This recipe will ensure that you get less greasy hair and gives it a great vitamin boost:
beat an egg in a bowl

add 50 grams of yogurt, mix together till smooth

Spread the mask over your moist hair, and wrap in aluminium foil or plastic foil

Leave the mask for about thirty minutes

Rinse with lots of lukewarm water
If you ditch the store bought stuff, and clean your hair with these nourishing recipes, you will get rid of that oily hair in no time!
Like my homemade solutions? Find more at http://everyhomeremedy.com/
Stay Happy, Stay Healthy 🙂
Olivia
Do you deal with greasy hair?  What are your favorite ways to treat it?