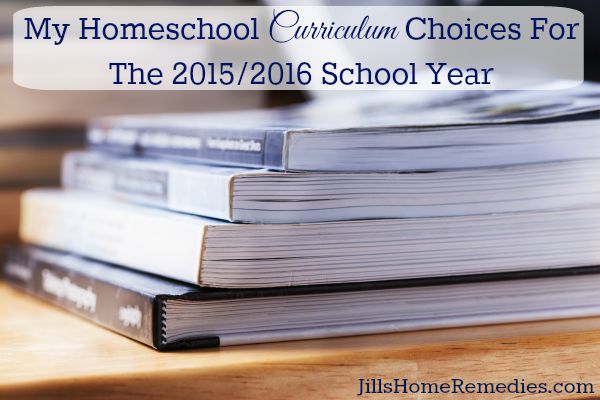 Today is our first day of this new 2015/2016 school year, and I'm just as excited as my kids (I'm actually probably more excited!).  I have always really enjoyed teaching children, and I especially enjoy teaching my own and learning right along beside them!  We learn SO much together, and each year it seems that I find a new curriculum to switch or add to what we are doing to fit the needs of our learning style. This year is no exception.  I'm using something new for English, and adding more history and copywork into our schedules.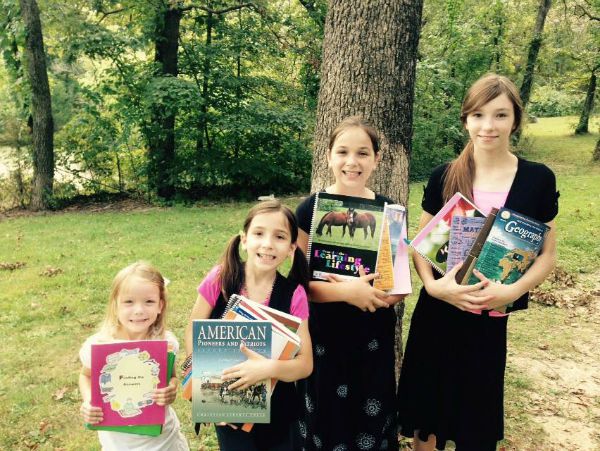 I attended public school my whole life and did not enjoy school at all.  I had some great teachers, and they did a good job of helping me learn the basics that I needed for life (for which I'm thankful), but school was just memorizing facts and did not relate to real life.  I didn't realize how much I loved to learn until I graduated.  I now enjoy trying to cultivate a love of learning into my girls!
If you are a homeschool mom, do you feel overwhelmed with all the MANY curriculum choices out there?  I certainly did when I first started out.  I've been homeschooling for 9 years and we've switched curriculums here and there as I find what fits best with my teaching/their learning style.  Let me share with you my choices for this year.  I'm one of those homeschool moms that doesn't buy a whole complete set from one company, but has found companies that I believe excel in each subject.  I never planned it to be this way, it just happened.  When I look for curriculum, my choices are based on price (there's some great curriculums out there that are WAY out of my budget), and I look for good quality curriculum that reinforces the Christian world-view I desire to pass on to my children.
My Homeschool Curriculum Choices for This Year
This year my girls are in grades 8th, 5th, 3rd, and preschool.
Preschool
My favorite curriculum for preschool is the ABC Series by Rod & Staff.  At only a few dollars a book, this preschool set is very affordable.  Not only is it Bible-based, it also has a lot of fun cut and paste activities that my children look forward to doing.  My older ones still talk about using this set as a preschooler because they enjoyed it so much.  It teaches the basic colors, shapes, numbers, letters, etc., plus a lot MORE!  The best price I have found for this set is at the Homemakers Depot.  They have very reasonable shipping.  I buy the set of 6 workbooks, and you can buy the Bible Stories to Read separately to go along with the coloring book if desired.  I really enjoy telling my 4 year old the Bible story and then having her color the picture afterwards. I also bought a few months of membership at ABC Mouse.  This is an online program that my preschooler has worked on this whole summer on her own.  She's learned a lot using this, but I also enjoy doing book work, so she started the ABC Series today!
Copywork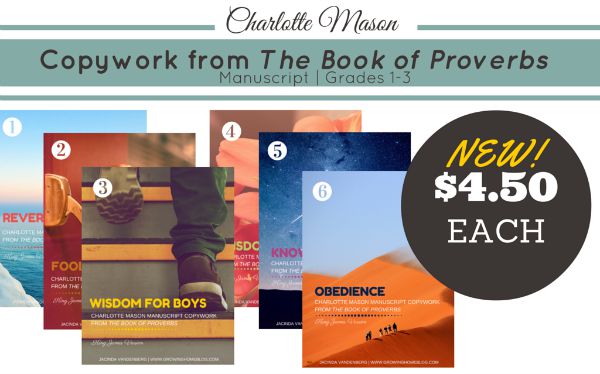 This year for copywork, I'm using Copywork from the Book of Proverbs.  This is a brand-new series by Jacinda from Growing Home!  Copywork is not just penmanship practice, it also teaches spelling, grammar, and vocabulary at the same time.  While your child is carefully doing the 10 minute copywork each day, he/she is learning several subjects at once!  If you have a child that really struggles with spelling, vocabulary, and grammar, Jacinda recommends doing a lot of copywork instead of traditional separate workbooks in these subjects, as this really helped her as a child struggling in these subjects.  Copywork is also a great addition to add for penmenship and to reinforce any grammar or spelling books you're using!
There are 6 copywork books to choose from:
Reverence for God
Fools and Folly
Wisdom for Boys
Wisdom for Girls
Knowledge
Obedience
Each copywork book comes as an instant download, ready to print as many copies as you need.  What I really love about this set is that my children won't just be learning good penmanship and spelling, they will also be filling their minds with the truth of scripture!  This series is geared toward 1st-3rd grade, but I will most likely have all of my older 3 do this series (even my teenager) because it will help their spelling and memorization skills of these verses from Proverbs.  I also really appreciate the verses being in the original King James Version, as this is my very favorite and only Bible I use!
You can buy these for $4.50 each, or save 37% and buy the whole set for $16.99!  You can view the copwork books here.
Math
Our favorite company for math is Teaching Textbooks.  Math is my least favorite subject to teach so my girls do the computer version.  I did fine in math when I was in school, but I do not enjoy teaching it.  Who wants to give themselves a headache trying to teach a bunch of crazy number problems?  😉
One of my daughters really struggled with math until we found Teaching Textbooks.  Now she does great in this subject.  The computer version helps her auditory learning, and also helps those that learn visually.  It's not necessary to buy the CD and workbook both.  We only use the CD.  They do SO well with this!  I have the version that grades each lesson for me too.  It makes me one happy teacher! 🙂
As of now Teaching Textbooks starts math at 3rd grade, but are working on adding the younger grades.  For K-2nd grade, I use Math U See.  I will most likely use Teaching Textbooks for the younger grades when it is available.
Language Arts
For grades K-2nd or 3rd, I like to use easier books like Language Lessons by Queen Homeschool.  This year for my 3 older ones I'm using Easy Grammar.  I found that they needed something a little more complex since they were older, but I really like the copywork learning style offered by the Language Lessons for the younger grades.
Spelling
This year I'm using Sequential Spelling for the 2 older girls, and I'm printing off free spelling sheets for my 3rd grader from K12 Reader.  I have her read through the words one day, copy them on the lines for 2 days, and then we take a spelling test on the 4th day.  I like anything free! 🙂
Science
The best science by far that we've ever used is from Apologia!  I love, love their books!  My science textbook at the public school I attended taught evolution as truth.  Thankfully my science teacher claimed to be a Christian and did not teach evolution as truth. As a Christian, I am a die-hard creationist so I wouldn't have been convinced of the nonsense anyway. 🙂
However, I hated science in school.  Never thought I would like it until Apologia won me over.  Science is so incredibly fun and interesting now, though I may change my mind when my oldest gets into chemistry and such. 😉  I typically don't start this science until 1st grade, though I know of some that start in kindergarten.  You can find it here.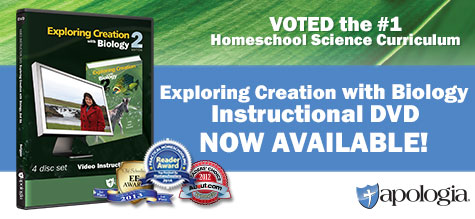 History/Geography
I must warn you that history is my favorite subject so I have many favorites!  Of course I didn't realize this until I graduated from school and started studying and learning on my own!  I could really go crazy over buying history books and curriculums, but I try to contain myself.  This year I am using Notgrass History for my older 2, and The Story of the World for my 3rd grader.  These are both so excellent.  I don't agree with the author of The Story of the World's view that the earth is 7,000 years old (I believe more like 6,000 years), but I can easily change the number when I teach, and the author tells the history in an interesting story-telling style.
I also really like Mystery of History.  We used it last year and I plan to add it back in next year.  I really enjoy how these books intertwine Bible history with other famous people of that time period.  I've really learned a lot from this history curriculum!  I personally felt that the activity pages were too difficult for my daughter last year in 2nd grade.  She enjoyed the history lessons but I felt the student pages were too hard for her to grasp and comprehend..  This is one reason I'm doing The Story of the World with her this year – it's specifically geared toward elementary.  I don't plan on using Mystery of History for my children before 4th grade as I think it's better for middle/high school.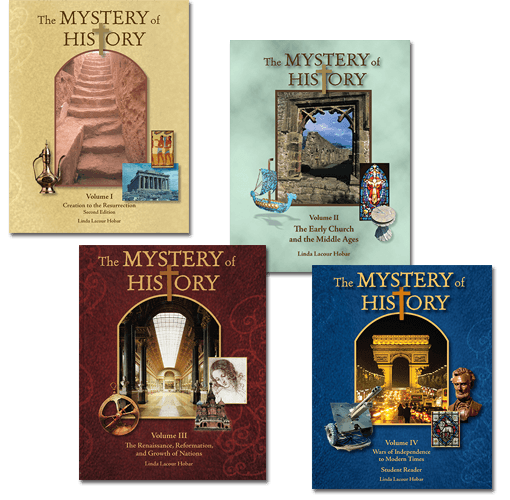 I also bought Discovering the World Of Geography books for the 2 oldest.  My 5th grader is focusing on the United States, and my 8th grader is studying the Eastern Hemisphere.  An atlas is required to use alongside these books, so I bought the Answer Atlas.  I did have to google one place though that we couldn't find in the atlas.  I think it was in the atlas but was not listed in the index.
On a side note, I really think the online self-paced history from Veritas Press looks amazing, but I couldn't afford it this year.  Maybe one of these days we'll add this visual learning aspect of history to my long list of history curriculums. It looks super awesome.  🙂
Oh yes, and I also bought American Pioneers and Patriots for my 3rd grader.  I saw it on Amazon and just couldn't pass it up…
Art
For art we use Draw Write Now and Draw Through History.  They both are an excellent intro to art.  My girls go through the whole Draw Write Now set (it's simpler for the younger ones) and then start in the Draw Through History series, though both can be started at an early age.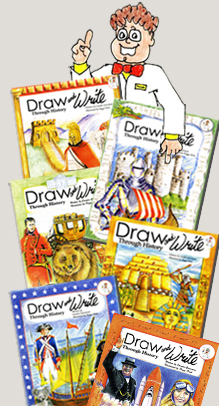 Other
My oldest daughter takes private piano lessons, but my middle 2 girls do Homeschool Piano online.  I know that a private real-life teacher is the best for most students, but I am pleased with the quality and price of these online lessons when I can't afford private lessons for each of them.
If you homeschool, what are your favorite companies to use?  I would love to hear about them!