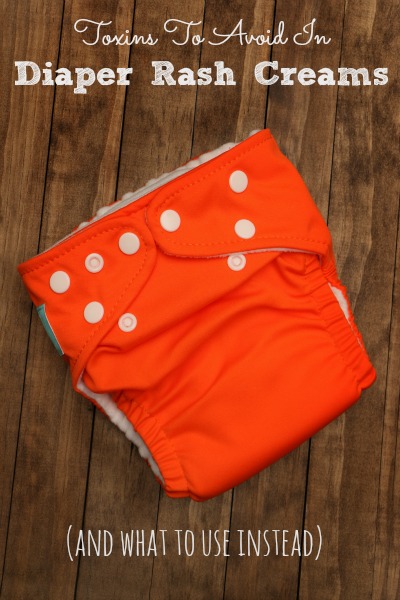 Babies come into this world so sweet and precious.  One of the best things in the world to me is the day each of my children were born.  There is absolutely nothing like that moment of seeing their precious little faces and meeting them for the first time.
Do you ever stop and think about all the harmful chemicals we slather all over baby's bodies?  The shampoos and lotions and powders have a lot of unsafe ingredients that make their way into the bloodstream and don't give our little ones the best start in life.  Toxins suppress the immune system, which is not what babies need as they enter a world of germs.
Toxins are in many baby products, but today I'm going to focus on 3 major toxins to avoid in diaper rash creams.
Toxins To Avoid In Diaper Rash Creams (And What To Use Instead)
I know there are several options for diaper rash creams, but I picked two of the most common brands: Desitin and A&D Ointment.  There are some ingredients like fragrances that aren't the best, but I'm focusing on the top 3 that I believe are the most harmful.
BHA
BHA is a stabilizer and preservative.  It has a moderate to high health hazard rating, and a moderate concern of cancer.  It also has a high concern of endocrine disruption, organ toxicity and bioaccumulation.  The National Institutes of Health has classified BHA as an anticipated human carcinogenic. (Source)
Methylparaben
Methylparaben is in the family of paraben preservatives and mimics estrogen in the body.  It has a high concern of endocrine disruption.
Petrolatum
Petrolatum is a semisolid mixture of hydrocarbons from petroleum.  It has a high concern of organ system toxicity.
So what does all this mean?
Let me explain these health hazards that I've listed above.
Cancer: We all know what cancer is.  Why use an ingredient on a baby's skin that has any sort of cancer concern whatsoever?  Craziness.  Total and complete craziness.
Endocrine Disruption: These are chemicals that can cause disruptions in the hormone system.  They can increase production in certain hormones while decreasing production in others, affect hormone signaling which can tell cells to die prematurely, change one hormone into another, compete with healthy nutrients, and cause cancerous tumors to develop.
Organ Toxicity: When toxins reach a point that they damage the body's organs.
Bioaccumulation: When a toxic substance is absorbed at a higher rate than it is lost.
I know that the companies who make these products claim that the toxins are in such a small amount that they won't harm a human-size body.  I tend to disagree with this.  And I believe there are better options.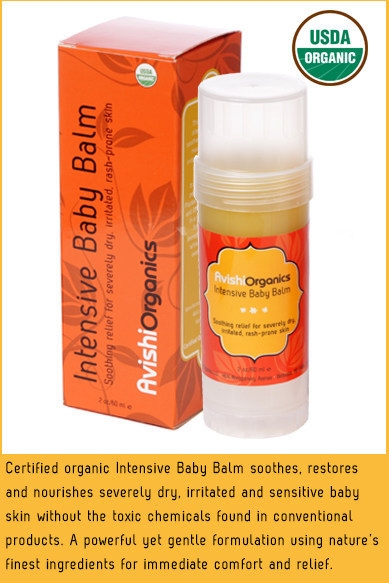 When Avishi Organics contacted me to try out their Intensive Baby Balm, I was happy to!  I enjoy trying out products and supporting companies that have truly healthy ingredients.
Avishi Organics Intensive Baby Balm:
Uses USDA certified organic ingredients
Crafted with all-natural plant extracts and oils
Rich formula that is extremely gentle, yet effective
Contains no mineral oil, parabens, sulfates, petroleum, preservatives, fragrances, or colors
This baby balm is perfect for diaper rashes, eczema, and any kind of dry skin or rash.  It works well for extremely sensitive and irritated skin.
Key Ingredients in Baby Balm
Coconut Oil – great soother for dry and irritated skin.
Neem Oil – prized in Ayurveda for helping skin afflictions.
Castor Oil – reduces inflammation, soothes abrasions and itching.
Plantain – soothes itchy skin and speeds healing.
Other Ingredients: Shea Butter, Beeswax, Olive Oil, St. John's Wort, Calendula, Lavender Oil, Vitamin E
Visit Avishi Organics HERE.  Check out their Intensive Stretch Mark Oil too!
What do you use to treat diaper rashes?
 Resources
 EWG. (n.d.). Retrieved October 27, 2015.
 Dirty Dozen Endocrine Disruptors. (n.d.). Retrieved October 27, 2015.