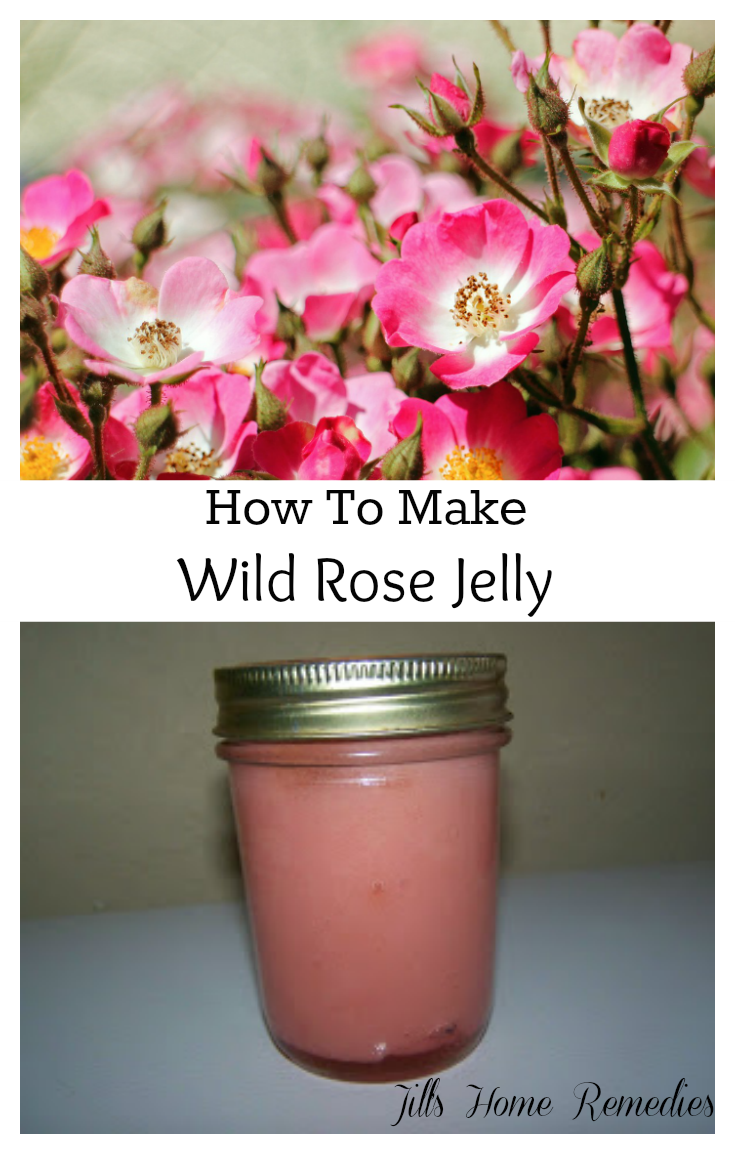 Did you know that roses are edible? There was a day that I never gave it a thought! Roses make me think of romance and courtship, but not food. When I stumbled upon a magazine that showed women preparing salad that contained rose petals, I knew I just had to make something yummy with the wild roses growing in the woods.
The fruit of roses, called rose hips (buy here), are most often the edible part of the rose used because it's so high in vitamin C. The rose petals, however, are also edible and are especially high in polyphenols, an important antioxidant.
I found a wild rose bush out in the woods and decided to make some jelly. You can use roses in your yard also, as long as you're SURE it has not been sprayed with pesticides. This is very important with eating flower petals. So, don't ever buy roses from the store for your next meal. Those are not edible.
Here's what a wild rose looks like. All roses have thorns on the stems, too.
It sure was a prickly situation picking these rose petals. I had thorns from the wild rose bush, and thorns from blackberry bushes intertwined with the rose bush to deal with. You can snip off the flower head from the bush because you want to use the petals right away since they lose their nutritional value quickly.
It was too prickly around the bush for me, though, to be able to cut the heads off. I had to give it everything I had just to reach some of the petals! At one point I had thorns grabbing my hair and clothes from all directions at the same time. The more I moved, the worse the situation got! I know I looked hilarious. Next time I need to be clothed in all leather, or something. 🙂
I did manage to get about a cup of petals. A lot of the petals had fallen off the bush, so next year I'm going to get them sooner!
Just when I was positive that I had every last petal, and I managed to work my way out of the thorns, I turned around and saw a small cluster of 2 or 3 flowers mocking me that I missed them. I decided it wasn't worth it to venture back to get those few petals because they were in the prickliest part of the bush. I'll leave those to the insects!
Like I said, make sure you do something with the petals as soon as you can before they lose their nutritional value. Wash each petal well and pat dry.
Homemade Wild Rose Jelly
Ingredients
1 C. fresh rose petals or 1/2 cup dried rose petals (buy here)
1 1/2 C. water
juice of 1 lemon (about 2 tbs.)
1 1/2 C. granulated sugar
1 Pkg. Sure-Jell pectin
Directions
Combine the rose petals, 3/4 cup water and lemon juice in a blender.
Blend until smooth.
Slowly add the sugar and blend well.
Bring the remaining 3/4 cup water to a boil in a small saucepan.
Stir in the pectin and boil for 1 minute, stirring constantly.
Pour the hot mixture into the blender with the other ingredients and blend 1 minute.
Pour into sterilized jars.
Wipe the rims of the jars clean and seal with canning lids.
Process in a boiling water bath for 5 minutes.
This recipe yielded 2 half pints (or jelly jars). The taste is tart and sweet. It's perfect on
homemade bread
, ice cream, or pancakes!
[yumprint-recipe id='22']
Have you ever made rose jelly?
This post is linked to: Like a Bubbling Brook
This post is updated from its original posting of July 1, 2011.