Much to my delight it actually felt like fall yesterday! Right at the beginning of what is supposed to be one of the hottest months of the year! After weeks of unbearable heat here in the Midwest, it was a welcome relief. I pulled out my Doctor Cinnamon Tea and made a whole pitcher of it for us to enjoy. Something about cooler weather puts me in the mood for warming herbs, and cinnamon is definitely one of those!
As I made the tea I was reminded of how you can balance blood sugar with cinnamon! In fact, just 1/2 teaspoon a day can help! However, if you actually struggle with blood sugar balance or diabetes, a slightly larger amount would likely be necessary. [1]
Most people enjoy the taste of cinnamon, so it's easy to use it to lower blood sugar. You can take cinnamon before eating that sugary dessert, and not suffer as much from the side effects! Research shows that cinnamon improves those with type 2 diabetes by helping them respond to insulin, which helps normalize blood sugar levels. [1] It stimulates insulin receptors, thus improving the cell's ability to use glucose. It also lowers cholesterol and triglycerides.
One study was conducted using apple pie. The scientists expected the pie to have an adverse affect on sugar levels, but found the blood glucose levels to be actually lower! Why? Because the pie contained cinnamon! [2]
Another study was conducted with 60 patients that had type 2 adult diabetes for several years and were taking anti-diabetic drugs. They were given cinnamon for 40 days. They found that the cinnamon reduced blood sugar levels and increased the natural production of insulin. It also lowered their blood cholesterol. [3]
Cinnamon also helps boost brain function by boosting brain activity. [1]
You want to buy quality cinnamon – not the seasoning at the store for 50 cents. 🙂 Fresh, good quality cinnamon is the best way to go if you want to help your sugar levels.
How much cinnamon to take?
It's recommended to take 1/2 tsp. – 2 tsp. a day. Start out with the smallest amount and increase if needed.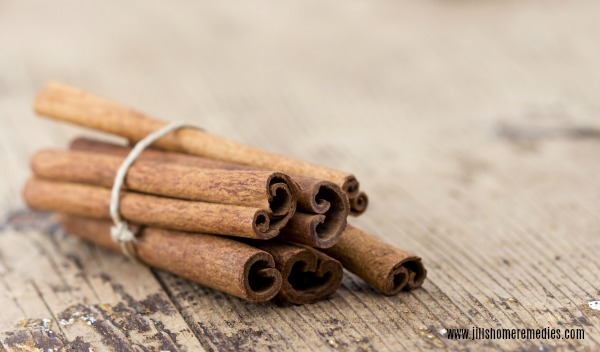 4 Ways to Balance Blood Sugar With Cinnamon
1. Powdered Cinnamon
Buy it in powdered form to use in foods or sprinkle on oatmeal, cereal, applesauce, toast, etc. A yummy toast is to put butter, honey and cinnamon on whole wheat bread! Buy organic powdered cinnamon here.
2. Cinnamon Sticks
Buy cinnamon sticks to stir hot chocolate (YUM) or tea with. The hot beverage will pull the properties out of the cinnamon stick for your benefit. Kids can also chew on cinnamon sticks or use them for straws to get healthy benefits including manganese, iron, calcium and dietary fiber. Buy organic cinnamon sticks here.
3. Cinnamon Tea
Buy a tea mixture like Dr. Cinnamon Tea that contains not only cinnamon, but also orange peel, red raspberry leaf, ginkgo and green tea for extra health benefits. This is the tea I made just yesterday and we love it! The herbs in this tea will help blood sugar levels, and also varicose veins, inflammation, fight cancer, plus many other benefits! Drink 2-3 glasses a day. Buy organic Doctor Cinnamon Tea here.
4. Cinnamon Capsules
Take in capsule form. If you don't care for the taste of cinnamon or you would like the convenience of a pill, you can buy the cinnamon in capsules or buy powdered cinnamon and put them in your own capsules to save money and to be sure that you're using a capsule without any added fillers (that a lot of companies use). Buy the capsules and capsule machine here.

I personally struggle with blood sugar problems from time to time, and greatly enjoy the benefits of cinnamon! Cinnamon is good for those who are pre-diabetic too. It will reduce your chances of becoming a diabetic.
So, whether you have blood sugar problems or would like to prevent them, start making cinnamon a part of your diet, and live a better quality of life!
Do you struggle with blood sugar problems? How do you control it naturally?
Resources
Axe, J., Dr. (2017, July 07). 13 Health Benefits of Cinnamon & Nutrition Facts. Retrieved August 05, 2017, from https://draxe.com/health-benefits-cinnamon/
Cinnamon spice produces healthier blood. (n.d.). Retrieved August 05, 2017, from https://www.newscientist.com/article/dn4413-cinnamon-spice-produces-healthier-blood/
(n.d.). Retrieved August 05, 2017, from http://www.thyroid-info.com/articles/cinnamon.htm
This post has been updated from its original publishing on May 23, 2011.