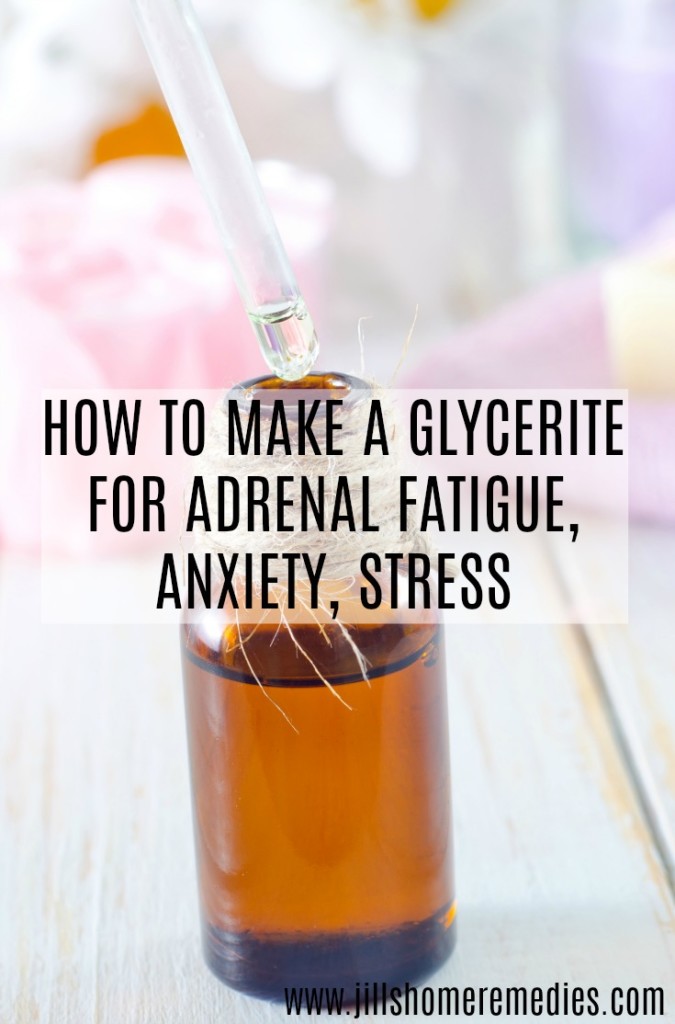 I've been talking about adrenal fatigue around here, and that's because adrenal fatigue has been my companion far too often in my life. I'm going to share how to make your very own tincture for adrenal fatigue. That is what my blog is all about, right? I love helping others get to the root of their health problems and correct them naturally. I also love sharing how to save hundreds of dollars making your own herbal medicine instead of buying it!
Be sure to read this post to see if you may be suffering from adrenal fatigue! Even if you aren't, this glycerite helps with stress and anxiety too!
Before making an adrenal tincture, it's good to consider the different herbs that are good for the adrenals.
A Few Herbs For The Adrenals
Ashwaghanda
Ashwaghanda is one of my favorite herbs for the adrenals. It can help restore energy, make you look younger, does a great job lowering cortisol levels, and helps the thyroid hormone. All of these are things I have needed in my adrenal fatigue journey. Most of the time if you're dealing with adrenal problems you're also dealing with thyroid troubles so this herb is a win-win! Buy ashwaghanda here. [1]
Rhodiola
Rhodiola is a very potent adaptogen. It fights excess adrenaline, increases mental endurance, elevates mood, and helps the body handle stress. [3]
Holy Basil
Holy basil is another one of those adaptogen herbs that are great for the adrenals and anxiety. It's also useful for hypothyroidism, hormones, and blood sugar. [2]


Astragalus
Astragalus is great for the immune system and I love to add it to a variety of tinctures and teas for good health. It relieves fatigue and improves vitality and endurance. [3]
Eleuthero Root
Eleuthero root also is another great herb for adrenal fatigue recovery. It increases endurance and vitality and helps the body handle stress. [3] Buy eleuthero root here.
Licorice Root
Licorice root boosts levels of the DHEA stress-fighting hormone. It restores normal cortisone levels. [4]
DIY Glycerite For Adrenal Fatigue
You can take these herbs in tea or capsule form, but another way to take these herbs is in the convenience of a tincture. You can also take them individually or combine them like I have. Many herbs compliment each other and make a more potent medicine together, but they are effective on their own too! What I did was chose 4 top adaptogenic herbs that I had on hand and made a quick and easy glycerite. (An actual tincture is made with alcohol but I made this one with vegetable glycerin.)
Because we are dealing with mostly roots, these herbs will swell to about double their size, so we will only fill the jar 1/4-1/3 of the way. You will notice below that I used 1/4-1/2 cup of astragalus because I like to fill my jar 1/3 of the way instead of just 1/4. You can use your own judgment. There really isn't a definite right or wrong way!
Adrenal Fatigue Glycerite
Ingredients
1/4 cup Ashwaghanda root(buy here)
1/4 cup Eleuthero root (buy here)
1/4 -1/2 cup Astragalus root (buy here)
1/4 cup holy basil (buy here)
Vegetable Glycerin (buy here)
Boiling water
Directions
Place herbs in a quart jar.
Pour boiling water over the herbs, just barely covering them.
Fill jar the rest of the way with vegetable glycerin, leaving a 2 inch head space.
Cover jar with a lid and shake well.
Place a dish towel in the bottom of the crockpot.
Place jar on towel.
Fill crockpot with water up to the rim of the jar.
Turn crockpot on low and let jar steep in water for 3 days.
Check water level every day and add more water as needed to keep the level to the rim of the jar.
After 3 days, strain the herbs from the liquid and compost herbs.
Pour herbal liquid into a clean jar or smaller tincture bottles and label with name and date.
My glycerites keep in the cabinet for a year or two.
Note: Take 1/4 teaspoon 1-3 times a day.
[yumprint-recipe id='25']You may be interested in my other adrenal fatigue posts,
How to Know If You Suffer From Adrenal Fatigue
, and
How to Heal From Adrenal Fatigue.
Resources
Axe, D. J. (2017, July 21). Ashwagandha Benefits Thyroid and Adrenals. Retrieved August 11, 2017, from https://draxe.com/ashwagandha-proven-to-heal-thyroid-and-adrenals/
Dr. Josh Axe and Eric Zielinski. (2017, July 20). Holy Basil Balances Cortisol and Hormones – Dr Axe. Retrieved August 11, 2017, from https://draxe.com/holy-basil-benefits/
J. (n.d.). Adrenal Fatigue Syndrome: The Adaptogenic Herbs You Need to Know About. Retrieved August 12, 2017, from http://www.foodrenegade.com/adrenal-fatigue-syndrome-the-adaptogenic-herbs-you-need-to-know-about/
Sep 10, 2013 Jack Challem. (n.d.). Fight exhaustion with adrenal-support supplements. Retrieved August 12, 2017, from http://deliciousliving.com/conditions/fight-exhaustion-adrenal-support-supplements
H., About HeatherHi, I'm Mommypotamus. My mission is to help you put delicious, healthy meals on the table, find effective natural remedies for common complaints, make your own fuss-free personal care and home products, and save time and money in the process., K., J., L., A., . . . Good, A. (2017, August 11). Adrenal Support Tincture Recipe. Retrieved August 12, 2017, from https://www.mommypotamus.com/adrenal-support-tincture/