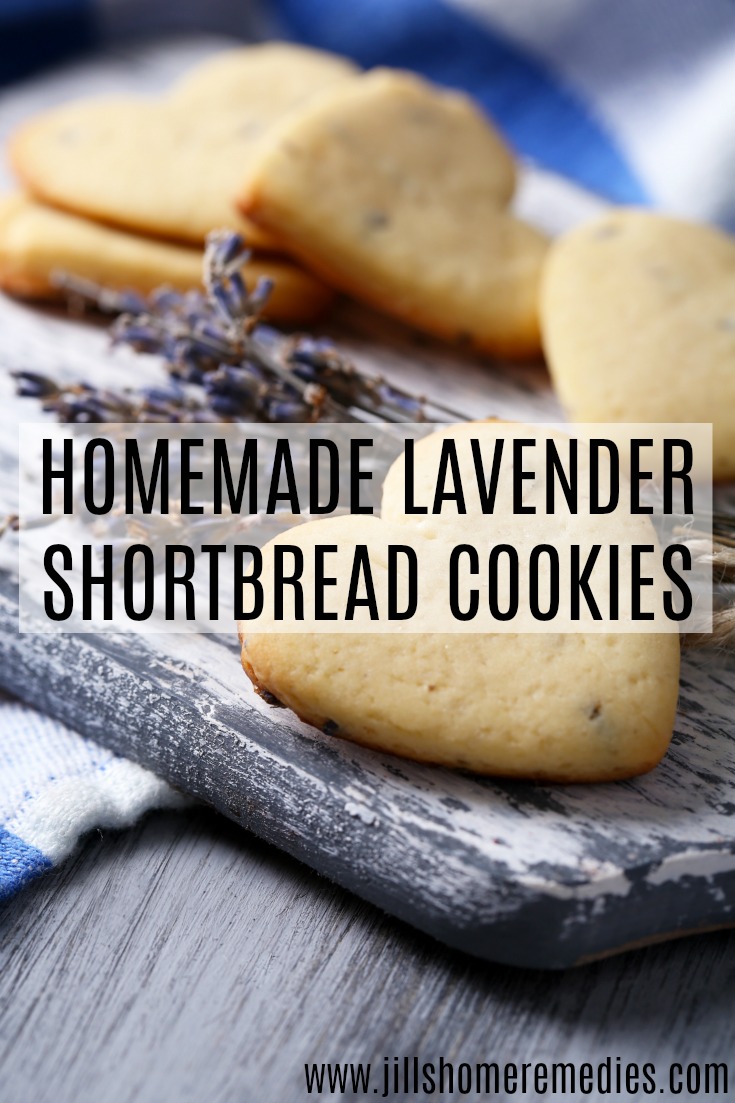 Most of the time when I think of herbs I think of home remedies, or perhaps sprinkling oregano in my beef stew. But cookies?! What an awesome idea! I love finding new ways to use my stash of herbs and make herbs interesting and fun to my girls! I think herbs can and should be used in daily life and it's a life skill that's important to pass on to our children. Using herbs really is a lost art in our society, but it's certainly something that can be brought back!
Lavender happens to be an herb that I have a lot of on hand most of the time. This bag of organic lavender flowers lasts a long time for several different uses, including making my tea for frazzled nerves during times that I'm super stressed or busy.
This was my first attempt at adding herbs to cookie dough and we had a lot of fun doing it! We really enjoyed the taste of the lavender. You can add more or less herb depending on how strong of a flavor you'd like. If you don't care for the flavor of lavender, you could substitute dried organic rose petals.
When you use herbs, it's always a good idea to teach/review with your kids how the herbs are good for us! Lavender helps you relax and calms the nervous system. It also has antifungal, antibacterial, and antiviral properties. [1]
Lavender Shortbread Cookies
One thing I like about shortbread cookies is that they are not super sweet!
Ingredients
2 cups flour (use your flour of choice whether it be whole white wheat, all-purpose, or a gluten-free variety)
2 sticks softened butter
2-3 teaspoons of dried lavender (buy here)
1/2 cup cane sugar
Directions
Place butter, sugar, and lavender into a food processor and blend until lavender is chopped into tiny pieces. Use a blender or

mortar and pestle

if you don't have a food processor.
Place butter/sugar mixture into a mixing bowl.
Stir in flour until well mixed. You can also mix with a blender on low.
Wrap dough in plastic wrap and chill in fridge for 30 minutes.
Roll dough on floured surface to 1/4 inch thick.
Cut dough out using cookies cutters of any shape or use the top of a glass.
Place the cut out cookies on parchment paper or something similar and place on a baking sheet.
Place back in fridge for another 30 minutes before baking.
Bake at 300 degrees for 10-20 minutes until the edges barely brown. Shortbread cookies are not supposed to be "browned" – they should be taken out while still white. My oven runs super hot so your cookies may take up to 25 minutes!
Sprinkle cookies with powdered sugar if desired. You can also mix powdered sugar with a tiny amount of water to make a quick icing to drizzle over. Or eat plain and enjoy that lavender flavor.
*Note: You can substitute the dried lavender with fresh lavender flowers if you grow them. Just double the amount of flowers in the recipe.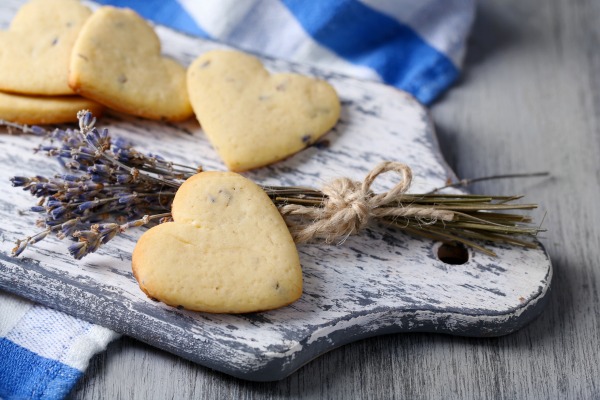 [yumprint-recipe id='26']
Speaking of life skills…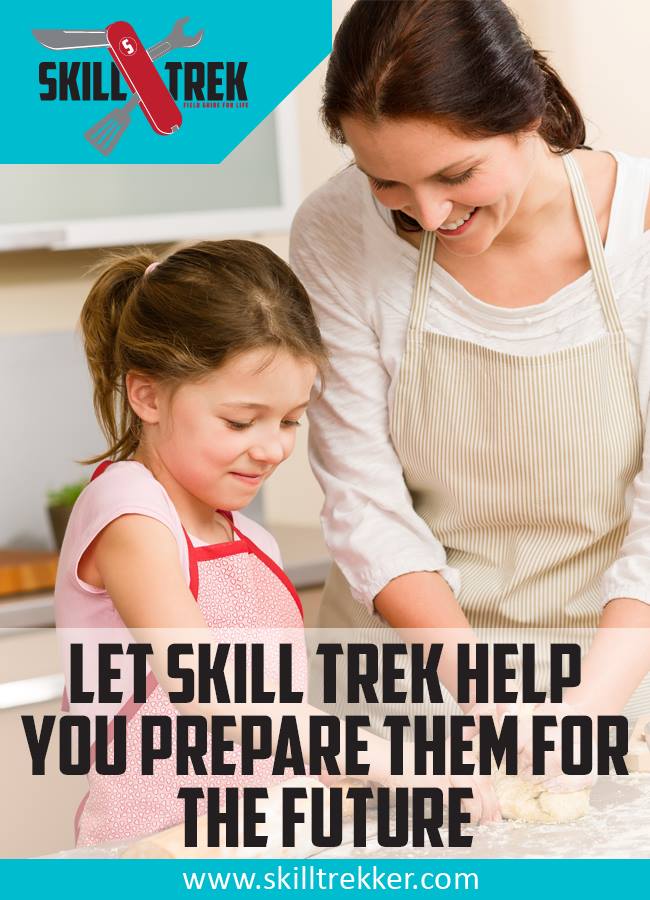 Parents, are your kids equipped with the life skills they need to be capable adults? Not sure?
I've recently started using a life skills program called Skill Trek that has me excited! As in excited like when I put herbs in my cookies!
As parents, we want our children to be prepared for the future with confidence, and yet it's easy to not get around to teaching them those really important things.
For instance, do your kids know how to use wrenches? How about building a raised garden or replacing a wiper blade?
Or what about making an herbal oil?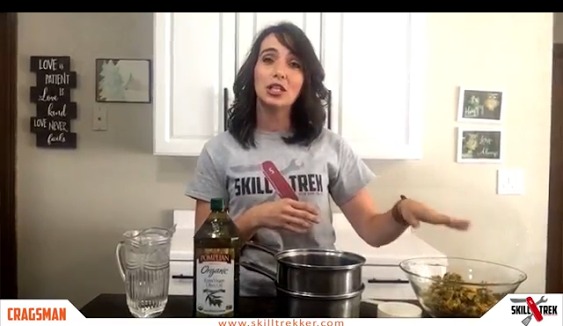 Yes they do have a life skill that includes herbs! In fact, as we are speaking they are putting up a video and lesson on their website of me making an herbal oil! I'm so excited to be a part of Skill Trek! And there will be more herbal videos to come.
Skill Trek is a brand-new online curriculum that fills in a gap that no other curriculum offers.
Why do I love this program?
It's completely customizable! They have age appropriate tasks like changing doorknobs and car batteries for the teenagers, and growing seeds in a bag and oiling a squeaky hinge for the younger ones. You can add or remove any tasks as you wish.
You can add tasks from other levels if you wish. I love this because there are tasks in the younger levels I want my teenagers to learn (like how to make an omelet) that I can add to their profile. And it works vise versa if I wish my younger ones to do a task assigned for an older age (like how to set a table).
Skill Trek offers over 500 skills!!
This program motivates me to make sure my kids learn important life skills that I likely wouldn't get around to on my own. It's easy to let the learning years slip by and realize you didn't teach everything you wanted! For instance, we recently showed my girls how to check car engine levels because of Skill Trek, which is so important to know!
Being a follower of Jesus Christ, I love the Bible and spiritual options that encourage my kids in this area! If you are not of a religious belief, you can simply delete these tasks. It's really customizable for each family!
The kids earn nuggets for completing each task and in the future can earn items in the Skill Trek store! This is still in the works but I know my kids will LOVE this when it's available!
They add new skills on a regular basis! They just added my herbal oil lesson, an eclipse lesson, and Survival Spanish for younger ones. So you never run out of skills to teach your kids.
The tasks are not super time consuming to teach. It normally only takes a few minutes a week of teaching time and then the child learns the life skill independently to bless the family on and on!
Enter for your chance to win a year's family membership to Skill Trek!
I also have more GREAT news! Save 10% off Skill Trek now through August 23, 2017! Enter code JILLSHOMEREMEDIES at checkout! Check it out

HERE

.

Resources
Lavender Flowers Whole. (n.d.). Retrieved August 17, 2017, from https://www.bulkherbstore.com/lavender-flowers-whole-organic-1-2-lb