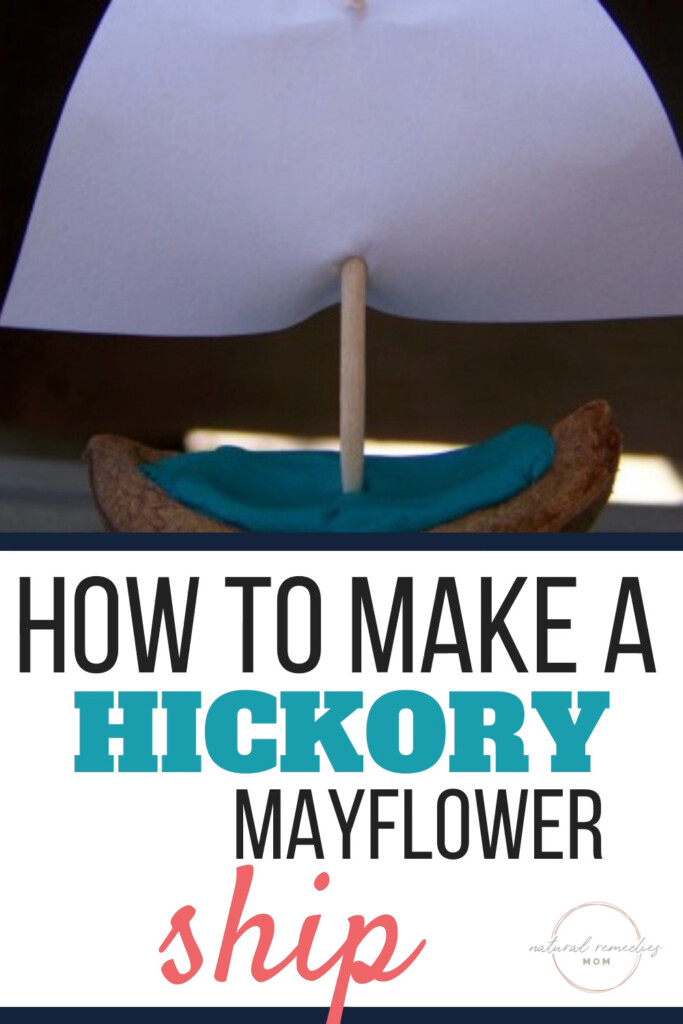 This time of year is perfect for teaching my children the sacrifice that our forefathers made in coming to America. A fun visual to use when telling the story of the Mayflower journey is a Mayflower ship made by using hickory nutshells and a few other items easy to find. 
It's very simple to do! And I love teaching my kids to appreciate nature even more by making fun nature crafts with them.
Nature Crafts: How To Make A Hickory Mayflower Ship
My daughter found hickory shells in our driveway. We broke the pieces apart and made little boats out of them.
Next, we filled the small shell with modeling clay. You could also use play dough, chewed gum, or whatever sticky thing you can find around the house. 🙂
Cut a rectangle out of white paper, making sure that the bottom of the rectangle is wider than the top.
Push a toothpick through the bottom and top of the paper to make a sail.
Place the toothpick in the clay to complete your ship!
As far as sailing these miniature ships, let's just say that my girls and I are thankful that the real Mayflower ship did a better job of safely bringing the pilgrims to America's shore. 😉 Perhaps a different nutshell would sail better, but they are fun to sail across the table too.
Aside from these not being the best floaters for us, they are a fun craft to do for this time of year and give me the perfect opportunity to teach history to my girls!
Have you made a Mayflower craft?  I would love to hear new ideas!