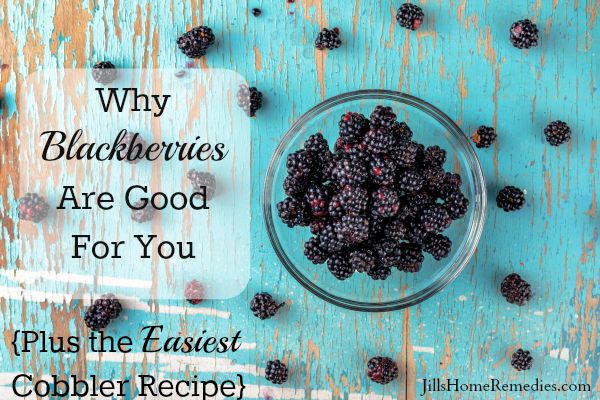 Do you have blackberries growing in your yard?  Or do you have access to local blackberries?  Don't let them go to waste ~ they will benefit your family's health!
Why Blackberries Are Good For You
*1 cup of blackberries contain 50% of daily recommended amount of vitamin C
*Contains antioxidants, which fight free radicals that can lead to disease
*1 cup of blackberries contains 8 grams of fiber
*Good source of vitamin K
*Contains Omega 3 fatty acids
*Helps with pms and hot flashes
One cup of blackberries also contains these nutrients:
Calcium: 4%
Iron: 5%
Magnesium: 7%
Phosphorus: 3%
Potassium: 7%
Zinc: 5%
Copper: 12%
Manganese: 47%
Selenium: 1%
Vitamin A: 6%
Vitamin E: 8%
Folate: 9%
Here are some bushes in my yard.  We have several plants scattered here and there.
Some people are nervous anytime they see the 3 leaves, thinking it may be poison ivy…
…..but the thorns on the stems are assurance that it's not! 🙂
Be sure to wash them well
And watch out for your children that may want to sneak one…
…or two! 🙂
You can make jams, pies, pancakes or smoothies with the blackberries, but this time I did a cobbler.  I really like the juicy cobblers, but one of my daughters doesn't.  I did find a recipe that she LOVES ~ it's more of a bread consistency, and it's VERY easy!
Preheat oven to 350 degrees
Place 1/2 cup of butter in a 9×13 inch pan and put in oven to melt.
Once it's melted, stir together 2 cups of unbleached self-rising flour, 2 cups of organic sugar, and 2 cups raw milk – the batter will be lumpy
Pour this on top of the melted butter, but do NOT mix
Drop about 3 1/2 cups of blackberries in the batter
Bake 40 minutes to an hour or until golden brown
This is the easiest cobbler I've ever made!  Enjoy!!