Today we have
Kasey
guest posting for us! Join us as she discusses purposefully making time for our children – something I need reminded of often!
My refrigerator is covered with coloring pages and free-hand drawings…all done in crayon. Nearly every one of them includes a little message like, "For Mama~I Love You" or "To the Best Mommy". They swing in the breeze as the fridge door flies open 563 times a day. Sometimes they even end up breaking free, fluttering to the ground. I rescue them, restoring them to their rightful place, but do I truly cherish the meaning behind these testimonies of love?
How many times do my sweet girls wake up to find a little note from Mama? Or a page colored just for them? How often do I carve time out of the day to set up a tea party for my special young ladies? The answer is nothing short of tragic…because it doesn't happen all that often.
I have boys who'd love for me to join them outside on the trampoline. Or even just have me plop on their bed to talk about a little bit of whatever. The times I do, their pleasure is evident from the smiles that wreath their precious faces and our conversation is flavored with the joy of relationship.
I'm secretly committing to purposefully sneaking in little moments. I say secretly because I don't plan to announce it to my kids. I want to surprise them with what will appear to be random acts of togetherness! Evenings that will find us hovered over a board game or caught up in the fast pace of Dutch Blitz. Character building movies served up with popcorn and cocoa, leaving opportunity for discussion later. Spa day with the girls that leave us pampered and connected. Wintry nights that find me bundled against the cold with my boys, seeking adventure in the darkness of the woods. Campfires that bring not only warmth, but a sense of family as we gather around it to sing and worship and tell stories. Pillow fights, serving an unexpected breakfast in bed, reading aloud from a favorite book…the options are endless. If I want to spend quality time with my family, I have to make the effort to do things they like!
None of this comes naturally to me. But tying those heart strings and binding our family closer should be a non-negotiable part of my every day! Because I don't want to wake up one day and find my kids grown and my house empty and realize that I'm filled with regrets. Regret over what could have been or what I should have done. Home is intended to be warm and enticing. But it isn't the brick and mortar or even the interior design that creates that appeal…it's the life that pulses within the walls.
If Mama is the heartbeat of the home, she'd better take her family's "heart-health" seriously and invest in the kind of medicine that covers both prevention and cure. And don't forget Daddy…he needs his lovin', too!
~~~~~~~~~~~~~~~~~~~~~~~~~~~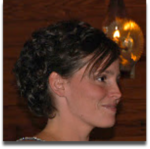 Kasey is happily married to Robbie and blessed to be mothering seven creative, energetic, fun-loving, huge-hearted kids! You can find her blogging through the journey at These Five of Mine Plus Two.