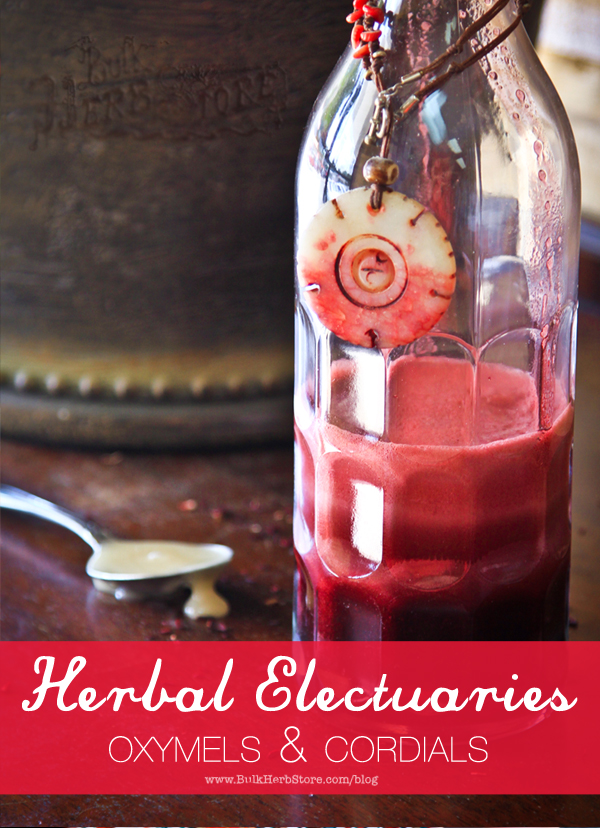 Do you have a hard time getting your family to take herbs? Would you like to learn more ways to bring sweetness and creativity into the kitchen when you make herbal preparations?
Let me introduce you to herbal electuaries, oxymels and cordials!
Herbal Electuary
Electuaries are a mixture of powdered herbs and honey. Some herbs simply taste terrible, but if you add a little honey, you have a delicious electuary!
To Make An Electuary
Place powdered herbs into a bowl
Drizzle enough raw honey to taste and mix well.
You can eat this straight off the spoon, or roll into small balls before consuming.
Recipes:
Winter Cherry Nourishing Electuary by Herb Society
Wild Rose Electuary by Herb Society
Longevity Electuary by Herb Society
A Prebiotic Herbal Electuary Recipe by Herbal Academy of New England
Oxymels
An oxymel is the process of combining herbs with vinegar and honey. I have done this many times when making elderberry syrup. You can use a combination of vinegar and honey that suits your taste. Some people prefer more sweetness and will use as much as 5 parts of honey to 1 part vinegar, while some will make a more vinegary oxymel with 3 parts vinegar to one part honey. There are also preferences to using a mixture of half vinegar and half honey. The elderberry syrup recipe I make uses 3 parts honey to 1 part vinegar.
So why use honey and vinegar with herbs? Raw apple cider vinegar and honey both have medicinal properties. When mixed together you get the health benefit of both foods, plus honey just makes the vinegar more palatable.
How To Make An Oxymel
Fill a jar 1/4-1/2 full of choice of herbs
Combine raw honey and raw apple cider vinegar in desired ratio. This is a good time to experiment. Try an oxymel with equal amounts of vinegar and honey, and then adjust it according to your taste the next time you make an oxymel.
Pour honey/vinegar mixture over the herbs and fill the jar about 1 inch from the top.
Cover with a lid.
Let it sit in a dark, cool place for 6-8 weeks, shaking every day or a few times a week.
Strain the herbs and store in glass jar for at least 12 months.
Read the rest at the Bulk Herb Store Blog

here

!