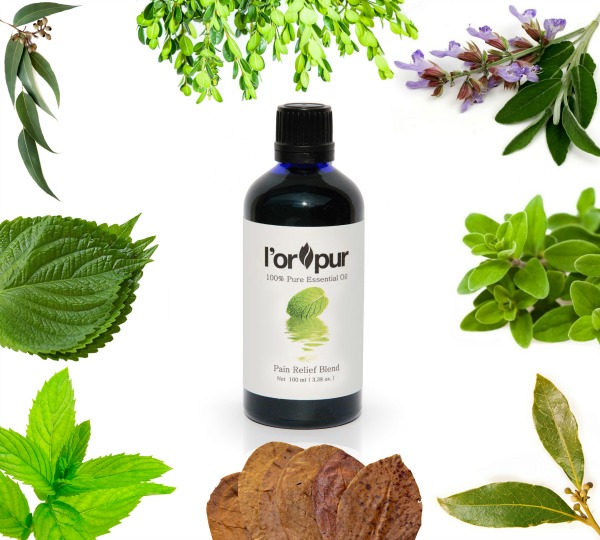 According to the American Academy of Pain Medicine, 100 million Americans suffer from chronic pain. This number is huge but it does not even reflect those that suffer from mild to severe occasional pain. That's a lot of pain sufferers, isn't it?! Pain is a big part of so many people's lives. Whether you suffer from occasional pain or pain on a regular basis, I'm going to share an essential oil pain relief blend that I've been using that may be just the answer you need to natural pain relief!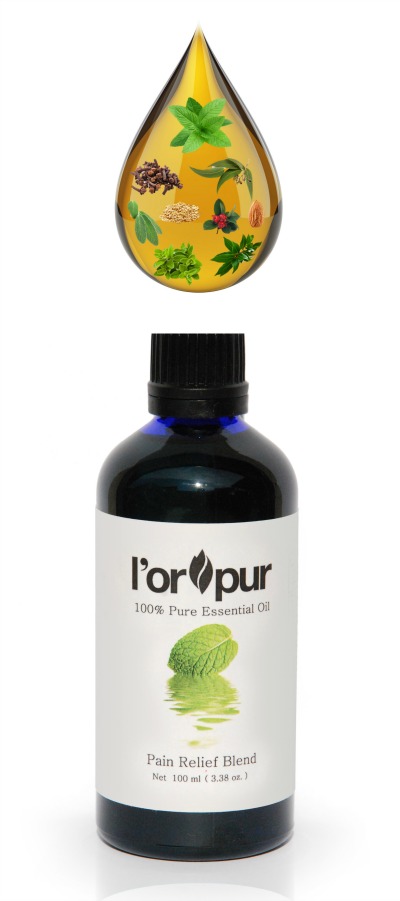 My Review of Essential Oil Pain Relief Blend
All Natural
I'm sure most of us have a family member, friend or some type of acquaintance that lives with pain. The burden of pain can be quite crippling and hard to live with on a daily basis. Most people turn to doctors and prescriptions for relief. The side effects, however, of pain medication (such as kidney and liver damage) can be quite concerning to some who would rather have a natural option. I recently received a bottle of Essential Oil Pain Relief Blend by L'or Pur to try out and was anxious to try it after reading reviews on their website such as:
"…I experienced great relief after using it. The relief was immediate. It's amazing!"
"This product works like magic."
"There was no pain in my neck and shoulder for almost 8-10 hours after application."
I can say that I too found similar results after using this essential oil blend! Essential oils can be a powerful natural alternative to pain relief. There are 8 essential oils used in this blend:
Peppermint – Peppermint oil offers significant pain relief for muscle strains. It also helps the brain to handle the pain better.
Wintergreen – Wintergreen oil is the most popular of essential oils for pain relief. It has amazing anti-inflammatory properties and can offer the same pain-relieving effects as aspirin.
Menthol – Menthol helps pain by targeting nerve receptors and helps the nervous system not remember the pain.
Camphor – Camphor works as a mild anesthetic.
Clove – The soothing and warming properties of clove help it to reduce pain.
Sage – Sage helps soothe inflamed muscles and joints.
Marjoram – Soothes muscles and strengthens the nervous system.
Eucalyptus – Eucalyptus oil relieves spasms and pain.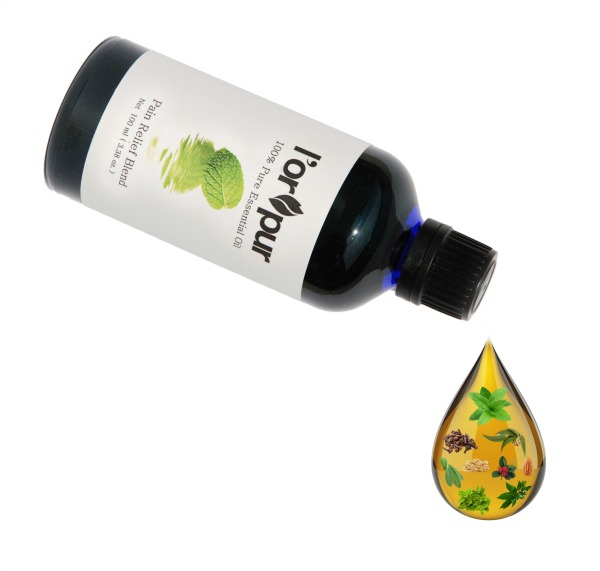 Effective, Fast Relief
What good is using something for pain relief if you are in a ton of pain and have to wait a long time for it to work?! One thing that I was impressed by was how quickly these essential oils soaked into my skin and offered quick relief.
Ready-To-Go
I'm all about blending oils on my own to save money, but it is so nice to buy a blend that is already properly diluted with carrier oils. This blend uses sesame and almond oil.
Affordable
I don't know if you've ever priced essential oil brands, but some of them can be up to $60 an ounce or more! Whew! I don't know about you, but that is NOT in my price range. L'orpur Essential Oil Blend is only around $15 an ounce, and the bottle comes in a larger size, which makes it last a long time. Check out this short video of me applying the oil!
Read more about this essential oil blend

here

, and be sure to use lorpur15off at checkout to save 15%!
Resources
H. (2016). Essential Oils for Pain – L'orpur. Retrieved September 30, 2016, from http://essentialoilbenefits.com/essential-oils-for-pain-lorpur/
The American Academy Of Pain Medicine. (n.d.). Retrieved September 30, 2016, from http://www.painmed.org/patientcenter/facts_on_pain.aspx