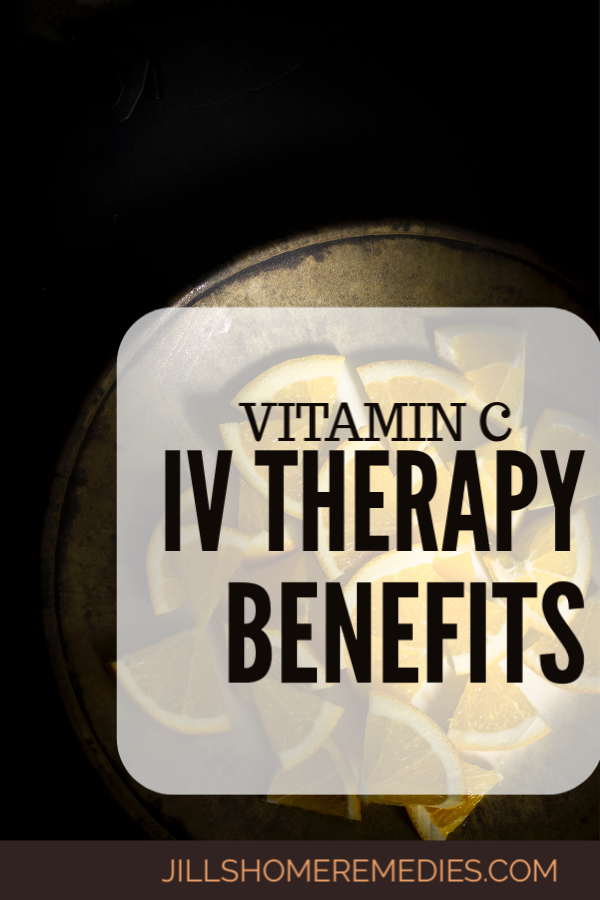 Vitamin C IV (also known as vitamin C therapy) is one way to boost your immune system and possibly aid you in your journey to better health. I've long wanted to have one of these IV's after reading about all of its benefits, and last week I found myself at a health and wellness center getting one- which was a first for me! I have since then had another one and have felt its benefits as well. In this post I'll explain what it is and how it may be helpful in your journey to getting healthier.
Why Vitamin C IV?
Many of you know that I have struggled every few years with things like adrenal fatigue, heart palpitations, anxiety, and panic attacks. Thankfully I have learned how to mostly get my health back on track with herbal remedies at home, but a few times I've needed the help of my natural doctor (I go to a Doctor of Chiropractic [DC]). In my recent visit I found that I'm deficient in magnesium (even though I take it at night in powdered form almost every night. I learned at this visit that our bodies can handle a lot more magnesium when we use it topically or intraveneously), I have adrenal fatigue (surprise, surprise….this is something I battle every few years and really need to get in the habit of supporting my adrenals better every day!), and I'm anemic (no wonder I feel like I need a nap in the afternoons!). On a side note about the anemia. You can be anemic even if your blood work shows that your iron count is OK. We can be low in our ferritin levels, which means we may have enough in our blood but don't have enough iron in our body. So if your doctor tells you that your iron is fine but you are fatigued and know something is wrong, ask to specifically have your ferritin levels checked. MDs are not taught to check these levels and that may be something that needs corrected. More about this in another post!
Here is my recent experience with this IV. I walked into my doctor's office unable to walk straight and my head was very dizzy. It felt like it had a rubberband wrapped around it. I had felt this way in my head for 6 days straight 24/7, but was trying to do things at home to destress. However, when I woke up this morning of the IV, I was unable to walk straight or function like I needed to and I knew I needed some professional help. I walked out of my doctor's office later that same day running to the car (because it was raining-which I could not have done before the IV) and the dizziness and rubberband feeling was completely gone! During the last 15 minutes of the IV I could feel my nervous system relaxing and a calm came over me because my body was getting nourishment that it was so deficient in.
Here are some reasons you may want to consider a vitamin C IV (my IV had added magnesium and B vitamins as well), especially if you are dealing with immune problems, infections, or a lot of stress. Our body becomes really deficient in vitamins and minerals when we are over busy and/or over stressed.
IV Vitamin C Therapy Benefits
Vitamin C reaches much higher levels in the body when taken intravenously than by mouth. You can only take vitamin C by mouth according to bowel tolerance, which is much less than through an IV.
When taken by mouth, vitamin C is not completely absorbed by the body. When it's delivered by IV, it's 100% bioavailable.
Supports adrenal glands
Helps energy levels – a 2012 study showed that intravenous vitamin C gave a reduction of fatigue and oxidative stress for 24 hours after treatment. [3]
Improves skin
Boosts the immune system and fights against bacteria [4] and viruses [5]
Used as part of a cancer healing protocol by its ability to fight cancer cells.
Makes side effects of chemotherapy and radiation less severe
Helps body recover from great amounts of stress
Helps extreme fatigue [3]
Boosts collagen production for stronger bones, blood vessels, ligaments, tendons, and thicker skin
I am not against medical doctors and do go to them when needed, but when it comes to dealing with anxiety, heart palpitations, panic attacks, etc., prescription drugs are just not for me. I recommend a natural doctor or DC. When we deal with these symptoms, our body is crying out for help and letting us know that something is wrong. If we take prescriptions that only deal with the symptoms, we are supressing our body's cries and not dealing with the problem, but are actually making things worse. It's always best to find out WHY our body is going haywire and deal with it at the root so we can HEAL!
Resources:
"High Dose Vitamin C IV." IV For Life, https://www.ivforlife.com/treatments/high-dose-vitamin-c-iv/.
"IVC Protocol Vitamin C Research." Riordan Clinic, https://riordanclinic.org/research-study/vitamin-c-research-ivc-protocol/.
Suh, Sang-Yeon, et al. "Intravenous Vitamin C Administration Reduces Fatigue in Office Workers: a Double-Blind Randomized Controlled Trial." Nutrition Journal, BioMed Central, 20 Jan. 2012, https://www.ncbi.nlm.nih.gov/pubmed/22264303.
Helgadóttir, Saga, et al. "Vitamin C Pretreatment Enhances the Antibacterial Effect of Cold Atmospheric Plasma." Frontiers in Cellular and Infection Microbiology, Frontiers Media S.A., 22 Feb. 2017, https://www.ncbi.nlm.nih.gov/pubmed/28275584.
Hemilä, Harri. "Vitamin C and Infections." Nutrients, MDPI, 29 Mar. 2017, https://www.ncbi.nlm.nih.gov/pmc/articles/PMC5409678/.