I love watching my girls roam the yard and woods with wild plants hanging out of their mouths. Not only does it give me satisfaction that they are practicing what I've taught them, but I also know they are getting great nutrition! 
Wild plants have the best source of nutrition available. Most people don't realize that eating wild plants in their yard is even better than buying organic food at the store!
To teach your kids to eat wild, purchase a book such as A Field Guide to Edible Wild Plants or Edible Wild Plants: Wild Foods From Dirt To Plate to help you identify wild foods. I suggest starting with one edible plant that doesn't have any poisonous look alikes. Study that one plant until you and your kids can identify and harvest it without any hesitation. Once you have that first plant mastered, begin with another one.
Teach Your Kids To Eat Wild
These are the 5 herbs that I have started with in teaching my girls to identify wild plants:
Chickweed

Dandelion

Plantain

Wood Sorrel

Red Clover
1. Chickweed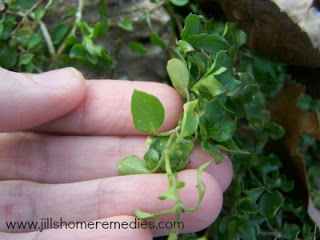 Chickweed has a tiny line of hair on one side of the stem, tear-shaped leaves, and grows a tiny white star-shaped flower.  
Edible parts: leaves, stems, flowers
2. Dandelion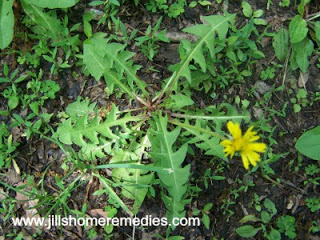 There are a few flowers that look similar to dandelion, but a dandelion can be easily identified by its leaves. Dandelion leaves make an arrowhead shape at the top of the leaf. Other leaves are more rounded.
Edible parts: The whole plant.  Roots, leaves, stem, flowers
3. Plantain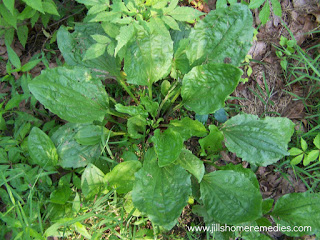 Plantain grows everywhere except in Antartica. The bottom of the leaf stem has a purple/red color, and the leaves are thicker with strong, raised veins on the back.
Edible parts: leaves
4. Wood Sorrel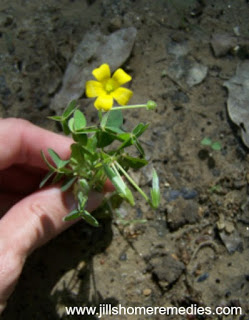 Wood Sorrel ( also known as sour grass) has a distinct delicious lemony flavor. My girls really enjoy this plant as a treat! Its leaves are heart-shaped, and the flower color can vary. In my area, the most common flower color for wood sorrel is yellow.

Edible parts: flowers, leaves
5. Red Clover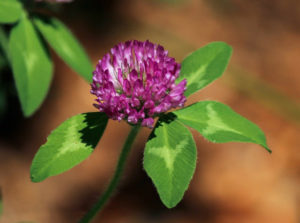 Red Clover is a plant with amazing nutrition! It's a great blood purifier, cancer fighter, and is used to treat infertility. 
Edible parts: leaves and flowers
What plants have you taught your kids to identify?