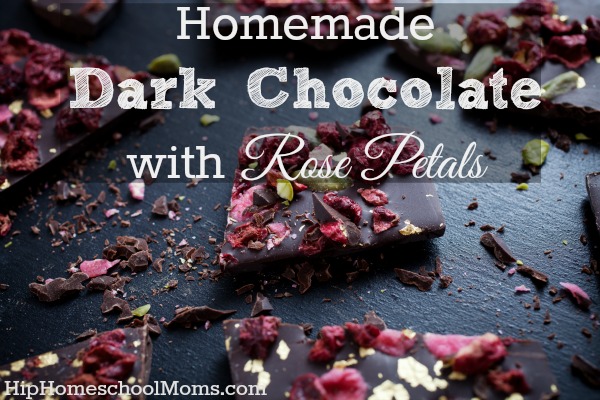 Since this is the month of chocolate, love, and roses, I thought it would be great to share a delicious homemade chocolate recipe…with rose petals!  Nothing spells love like homemade, and it's even better when you can combine love, chocolate, and herbs together!
Who doesn't love chocolate? To most of us it just doesn't seem normal to not love chocolate, but I know you chocolate haters are out there, and that's OK –  I really do try to understand.  🙂
For many, chocolate is a sanity saver for stressful times, a comfort food for sad hearts, and a pick-me-up when you are dragging your feet.
Chocolate is also associated with guilt because chocolate treats can add unwanted weight to our figures and is looked upon as something that is not healthy.
Well I have GOOD news for you chocolate lovers out there…chocolate isn't just junk food anymore: it actually can be and should be good for you!  You have to snack smart though – most chocolate sweets found in grocery aisles are not good for you due to the high content of sugar and other unhealthy ingredients.
Today I'm going to show you how you can make chocolate that is not only good for you, but can actually make you healthier! And, if you add herbs to the chocolate, you only make it that much better for you.
Read the rest at Hip Homeschool Moms (where I'm writing) to get a delicious, healthy chocolate rose recipe here…