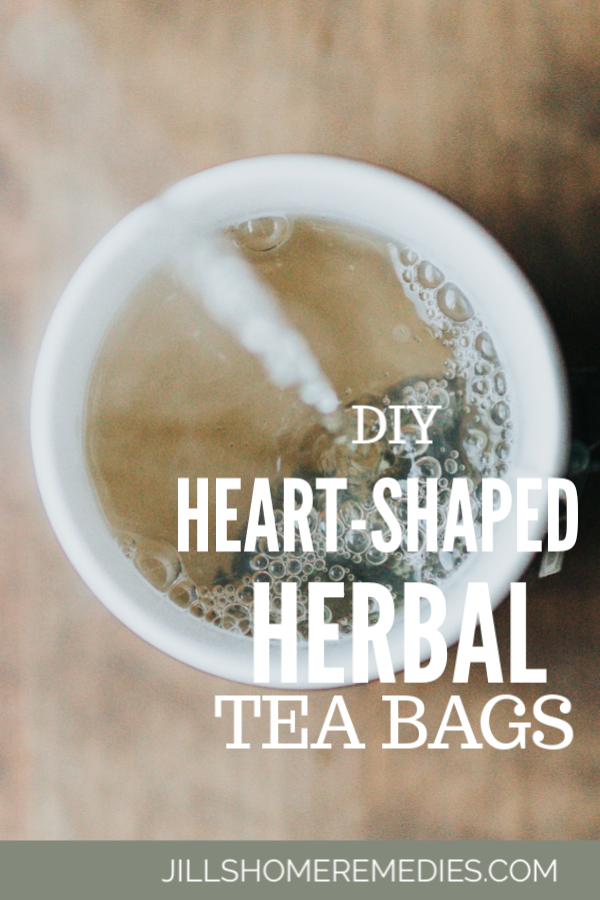 Herbal tea is an excellent treat for any occasion. I'm one of those moms that enjoys adding little touches to make special days even more special, or surprise my kids with an impromtu tea party. And these heart-shaped tea bags make any tea time occasion even more special! They are so simple and fun to make! Sure it takes a little more effort and time to make them instead of using plain tea bags, but kids think mom is a rock star when she makes an effort to do crafty things with them, and the memories last forever!
Some ideas for using these DIY tea bags:
Valentine's Day gifts
Mom's-to-be
New moms
A tea party with your children
A birthday party for your daughter and her friends
Items needed:
Material of choice:

empty tea bags

(easiest option)/coffee filters/cheesecloth/or cotton muslin
Heart template
Loose herbal tea
Needle and thread
Delicious herbal tea ideas to use:
Another great idea it to make the time more educational by telling your children what these herbs are good for while you are making and filling the tea bags. Here is some simple educational information you can share with them depending on which tea you choose:
Roses are good for relieving sress and can be used externally to heal wounds. It's important to emphasize that roses bought at a flower shop are not what you want to use, but those that are grown more ethically for medicinal purposes or are growing in the wild (like I use in

Wild Rose Jelly

) .
Lavender is also a good calming herb and relieves headaches.
Rosehips (included in the Very Berry Citrus and Island Breeze Rooibos listed above) is very high in vitamin C and the perfect herb to consume when sick.
Rooibos helps fight aging, colds, and infections
And the list could go on and on with the herbs in the tea mixes listed above!
It's important to note that while these herbs can be used as "remedies", they are great to consume for just pleasure or every day health as we do any food.
DIY Heart-Shaped Herbal Tea Bags
First, trace your heart template on paper or cardboard. If you trace directly on your tea bag/fabric, you'll most likely have traces of ink left after you cut it out. We don't want ink in our tea! I used a cookie cutter. Hold up your cookie cutter/template to the tea bag to make sure it is not bigger than your tea bag.
Place the heart template on the tea bag, trace the heart, and cut out.
Sew around the heart, leaving a space open to place the herbs in.
Fill the heart with one teaspoon of herbs/herbal tea mix of choice.
Sew up the heart. Attach a string and a label at the end, if desired.
Have fun making these with your children! You both will cherish the memories.
Enjoy your cup of tea!
Have you made a fun heart-shaped craft with your children for Valentine's Day? I would love to hear it in the comments below!